With the start of the warm season, it's time to dust off the bikes and get back on the saddle! One of the most popular destinations for motorcyclists is undoubtedly Lake Garda, with roads and views that will take anyone's breath away. Interesting elements for every motorcyclist are certainly the landscape and the adrenaline that flows along the route to be taken … but what if we told you that we have compiled for you a list of bars more suitable for motorcyclists on Lake Garda? This is great news, so you just have to keep reading to find out what goodies we have found for you!
Bar for bikers on Lake Garda – Verona side.
Mida's Stube (Lungolago Giuseppe Garibaldi, 10, 37019 Peschiera del Garda VR – Tel. 045 640 0907)
Mida's Stube is the first Augustiner Stube in Italy; it is located on the lakefront and offers free parking. The menu includes grilled meats, pizza and a large selection of beers.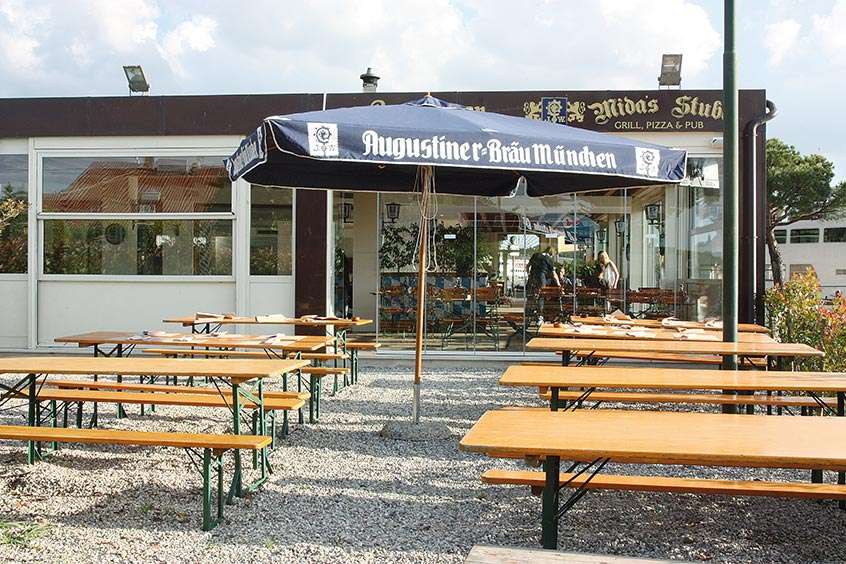 EL~RIEL Beachbar (Via Bell'Italia, 76, 37019 Peschiera del Garda VR – Tel. 045 242 6514)
El Riel Beachbar is a bar suitable for breakfasts, cocktails and lunches. Equipped with an area with grass having to relax after lunch or stop to enjoy the sun, the view and the energy of Lake Garda!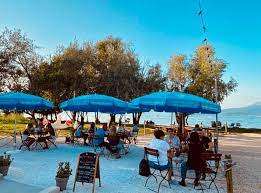 Gem's Brew Pub (SS 249, Via Gardesana, 135, 37017 Lazise VR – Tel. 045 647 1144)
The Gem's Brew Pub offers in particular meat, grilled cockerel, hamburgers, cutting boards, pasta, and ice cream of their own production in addition to the fabulous craft beers. Everything is located on the state road that connects Peschiera del Garda to Lazise, in a large room with the possibility of eating both outdoors and in the internal rooms, with private parking!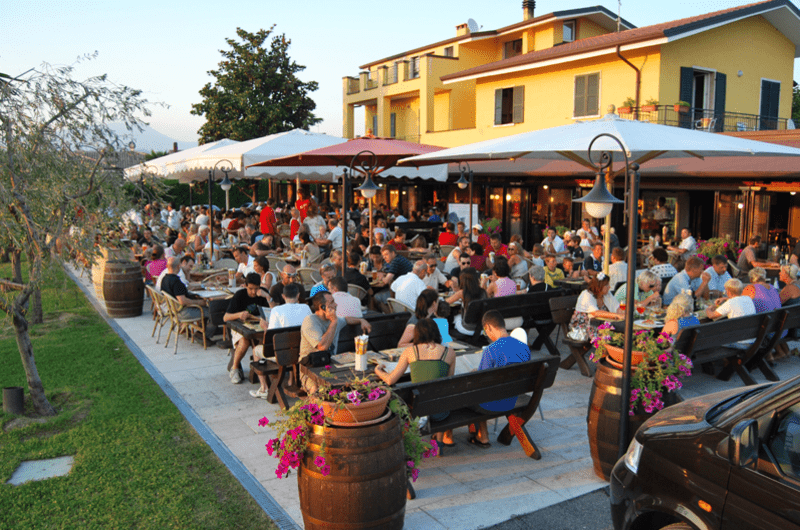 La Pacheca Rock Bar (Via Pra' del Principe, 3, 37017 Lazise VR – Tel. 346 866 2383)
In Lazise, you absolutely cannot miss a stop at La Pacheca Rock bar. Managed by the twins, who share a great passion for two wheels and many kilometers of motorcycles traveled. La Pacheca is a place with good music, great food and travel companions with whom to share passions and tastes. A meeting point for years, it allows bikers on tour or local friends to stop for a refreshment stop and a chat in an environment that embraces the passions of many two-wheel lovers. In addition, a Harley Davidson shop has recently opened next to the venue.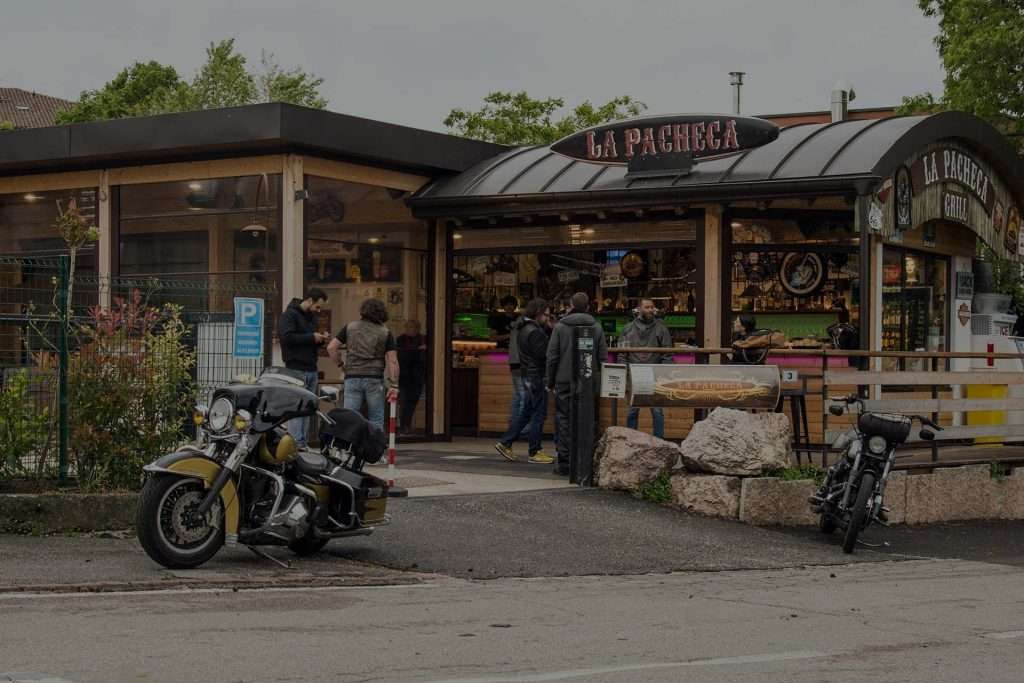 Lido Cisano (Via Peschiera, 2/A, 37011 Bardolino VR – Tel. 351 694 3583)
Continuing our tour of the bars for motorcyclists on the shores of Lake Garda, we reach Cisano (between Lazise and Bardolino), with the Lido Cisano, a bar with an equipped beach area, private parking, managed by bikers for bikers. We point out that this place is open from March to January.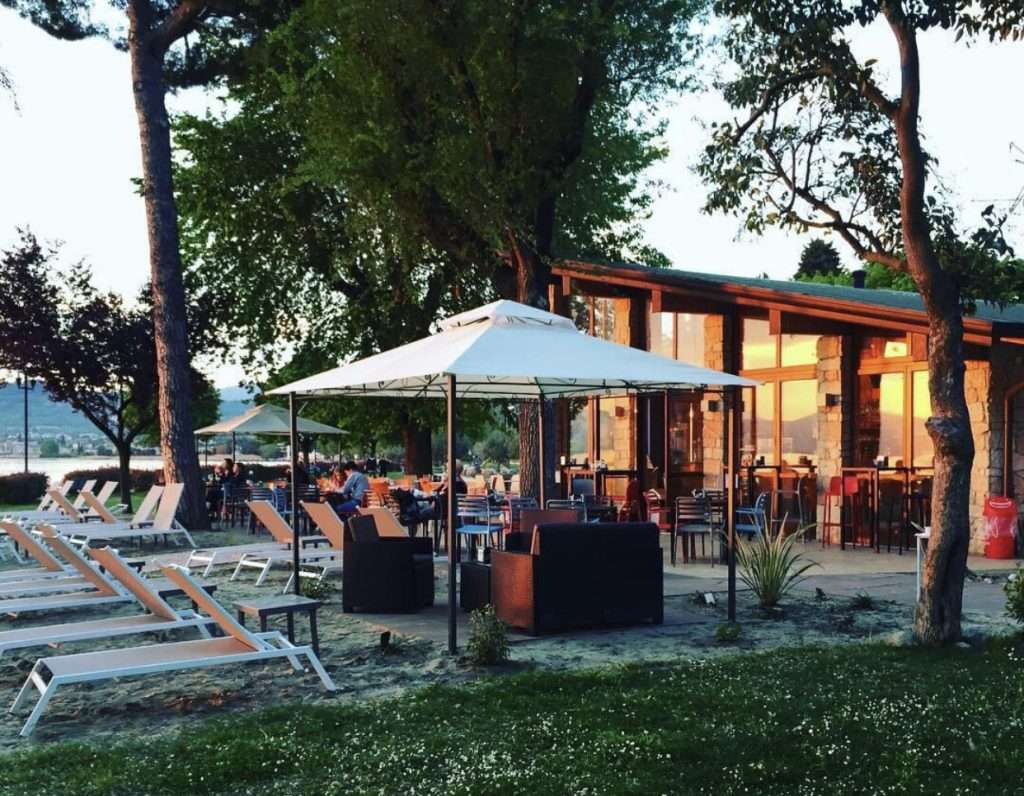 Bicigrill Affi (Via Stazione, 2, 37010 Affi VR – Tel. 347 409 5651)
The Bicigrill Affi is an ideal place for quick stops for good food. Located near the A22 motorway exit, it is surrounded by green meadows.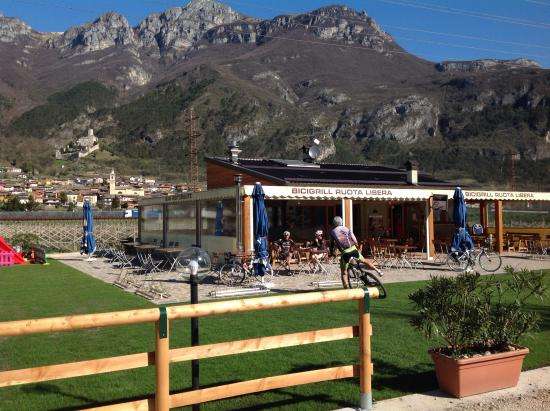 Bici Grill – Corte del Forte (Via Zuane Canale, 37010 Rivoli Veronese VR – Tel. 342 112 2715)
Immersed in the vineyards of the Rivoli hills, the Bici Grill – Corte del Forte is the ideal place for a break in total relaxation and in contact with nature. The homemade ice creams are excellent!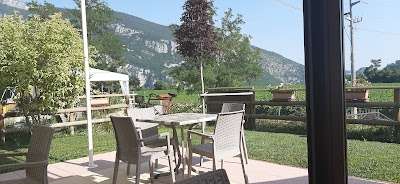 Lido Garda – Beach Cafè (Via Pincherle, 1, 37016 Garda VR – Tel.045 627 0332)
For a quick stop in Garda, a good solution can be Lido Garda – Beach Cafè, with parking just a few steps along the road and a relaxing atmosphere along the beach.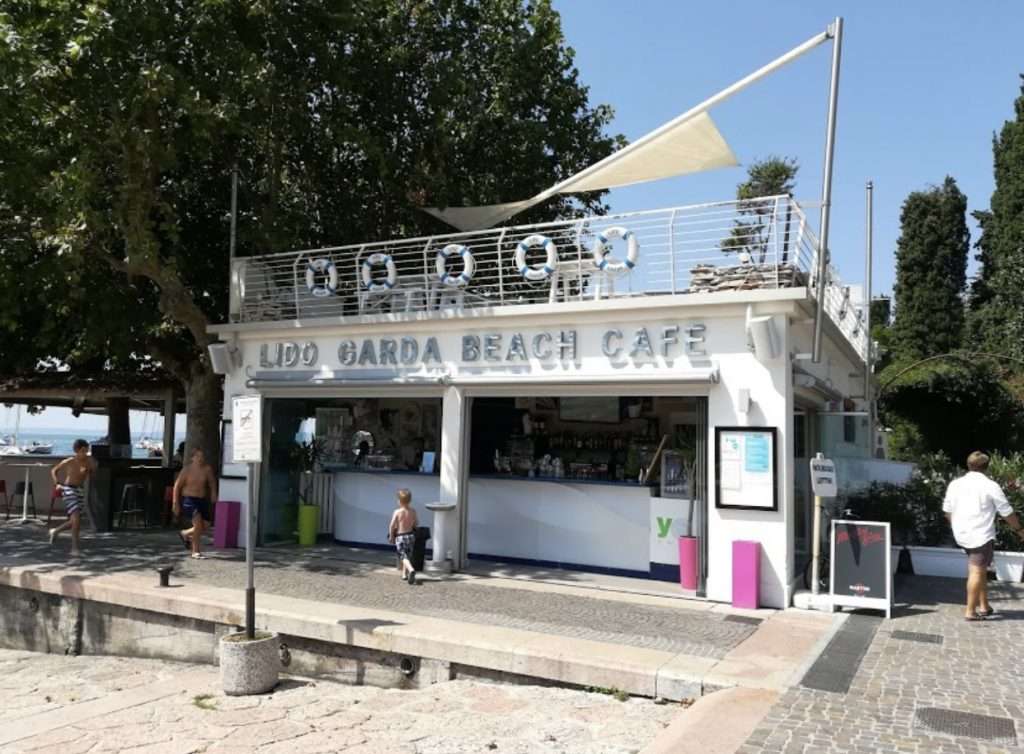 Allo scudo food and drinks (Via Fornare 1/c, 37010 Torri del Benaco VR – Tel. 329 206 6769)
Lungo la strada principale che costeggia il Lago di Garda, a pochi chilometri da Torri del Benaco, troviamo Allo Scudo food and drinks; un ambiente ottimo per una sosta rapida lungo il tragitto con una vista spettacolare e la possibilità di parcheggiare la moto affianco!
Ristorante Baita Rosa Di Mazzi Adriana (Via Prada, 50, 37010 Brenzone sul Garda VR – Tel. 045 628 9010)
Moving away from the shores of Lake Garda and climbing the slopes of Monte Baldo towards Punta Veleno, we meet Ristorante Baita Rosa Di Mazzi Adriana, a place with a breathtaking view and cuisine similar to that of a mountain hut!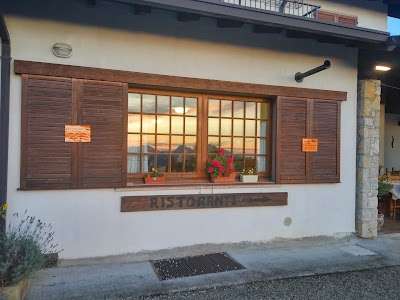 Albergo Edelweiss Prada (Via dei Narcisi, 1, 37010 Brenzone sul Garda VR – Tel. 045 628 9060)
Continuing on the road towards Prada, we meet Albergo Edelweiss Prada, a restaurant with traditional cuisine accompanied by some sophisticated dishes, surrounded by greenery and with generous portions!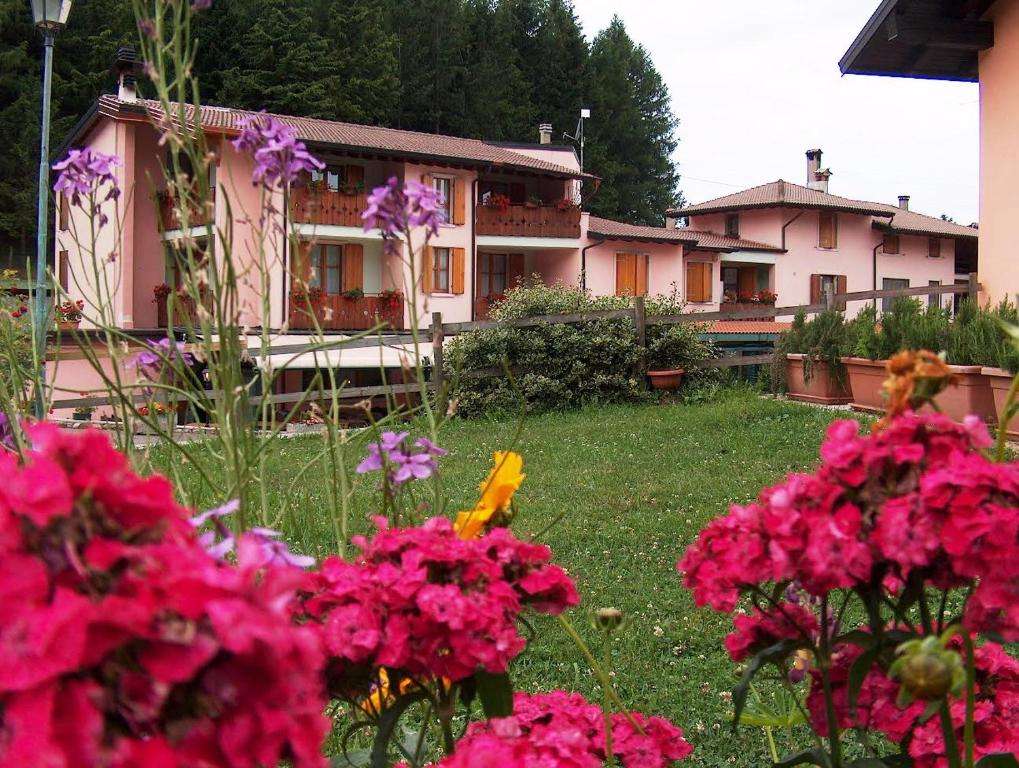 Bar trattoria Passeggiata (Strada Provinciale 8, 37013 Spiazzi Bazzega VR – Tel. 320 071 8782)
Still physically distant from Lake Garda, but still maintaining an excellent view, we meet the Bar trattoria Passeggiata which bases its cuisine on the saying "little stuff but fairy well"; in fact, it offers a menu consisting of 2 first and 2 second courses made on the spot. Ideal for a refreshing break in the mountains surrounding Lake Garda, it is a meeting point for all bikers who pass through the Spiazzi areas!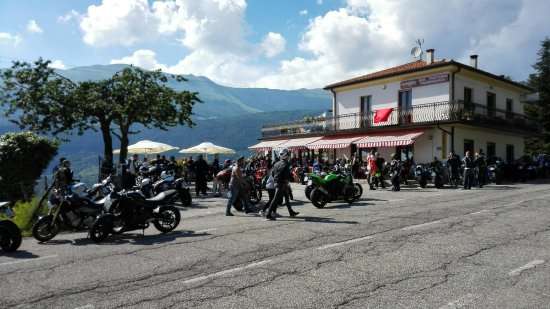 Barchet Brenzone (Via IV Novembre, 37010 Brenzone del Garda VR – 348 725 6581)
Returning to the Veronese shore of Lake Garda, we meet Barchet Brenzone, a place specializing in cocktails, with a quiet atmosphere, friendly staff and motorcycle parking next door!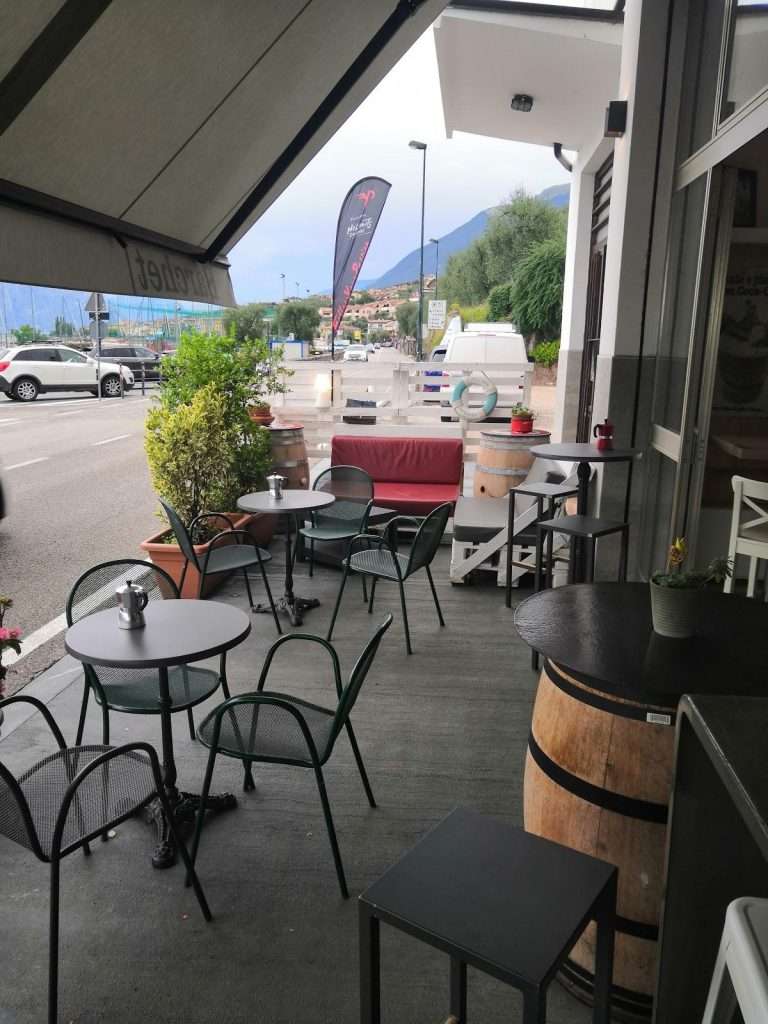 Oasi Bar Malcesine (Via Lungolago, 1, 37018 Malcesine VR – Tel. 348 735 5453)
In Malcesine we find Oasi Bar Malcesine a lakeside venue with a wide variety of aperitifs, sandwiches, ice creams and cocktails accompanied by baskets of snacks in an informal and peaceful atmosphere!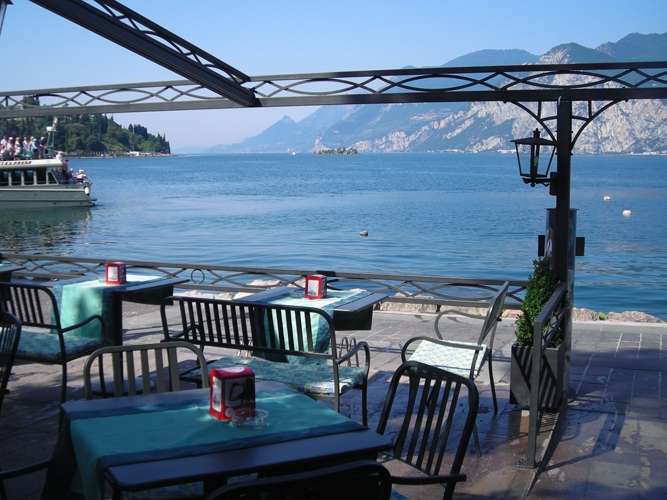 Speck Stube (Via Navene Vecchia, Località Molini, 139, 37018 Malcesine VR – Tel. 045 740 1177)
Going up Via Navene Vecchia, we find Speck Stube, specialized in spit-roasted meat and beer in the rustic rooms of the steakhouse surrounded by greenery with large outdoor tables! A place to regenerate even during the hot summer days. Try their ribs to believe!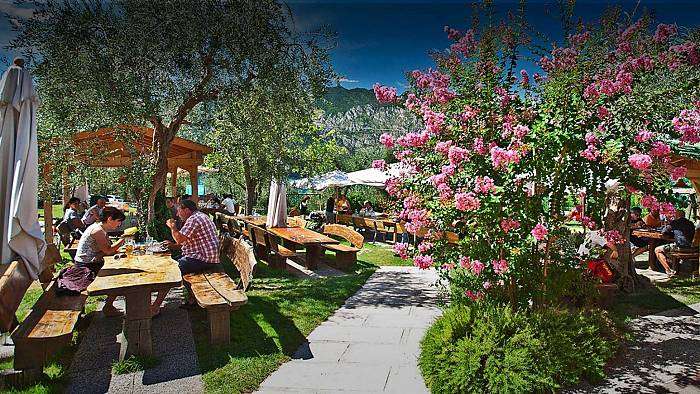 Bar for bikers on Lake Garda – Trentino side.
Bicigrill Duchi (Frazione Loppio, 38065 Mori TN – Tel. 338 126 2076)
Along the cycle path, near Lake Loppio we find Bicigrill Duchi. An excellent choice if you want to taste cold cuts and cheeses, sandwiches with Trentino products.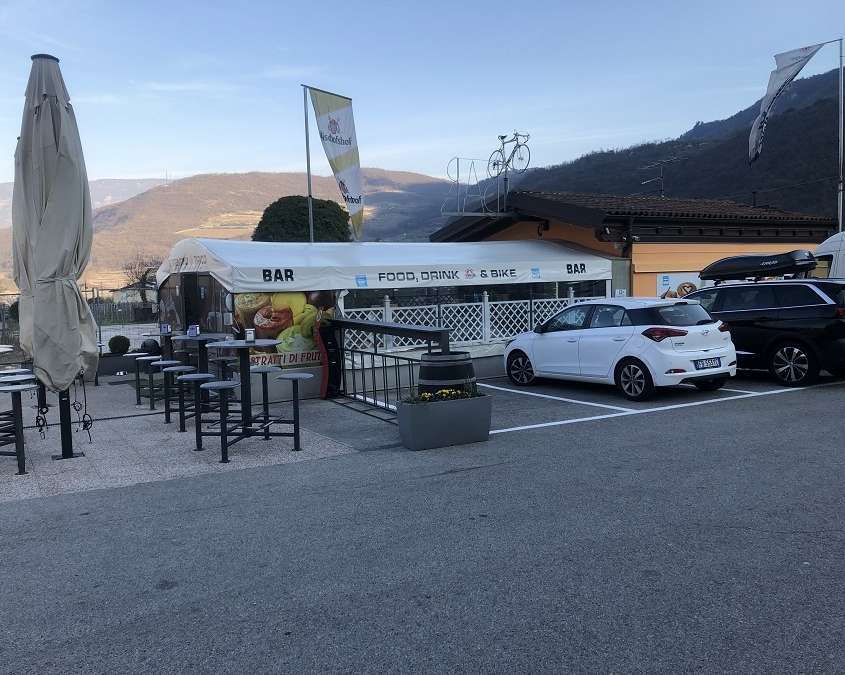 Trattoria Bar Al Lago (Via Del Garda, 1, 38065 Mori TN – Tel. 0464 918102)
Trattoria Bar al Lago, located near Lake Loppio, is an ideal place for a quick stop away from the traffic that Lake Garda can often offer!
Bar Sesto Grado (SS240, 146, 38069 Nago-Torbole – Tel. 347 194 1356)
Defined as the Open Air Panoramic Club, the Sesto Grado Bar is located on the road that connects Torbole del Garda with the hinterland and offers a spectacular panorama with visible parking!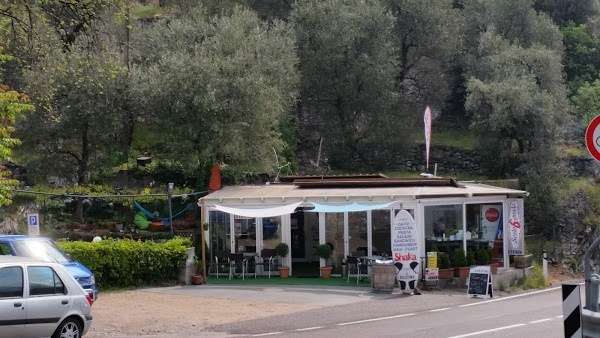 Sailing Bar (Porto S.Nicolò, Viale Rovereto, 136, 38066 Riva del Garda TN – Tel. 0464 870240)
Continuing the tour of the bars of Lake Garda, we arrive in Riva del Garda with the Sailing Bar, located in the Porto San Nicolò car park; offers breakfasts, aperitifs, sandwiches and cocktails, as well as good music and a fabulous atmosphere! If you are a lover of toast, you cannot miss the Maxi Toast, with ham, cheese, tomatoes and a special mayonnaise, accompanied by a fresh Coca Cola on tap!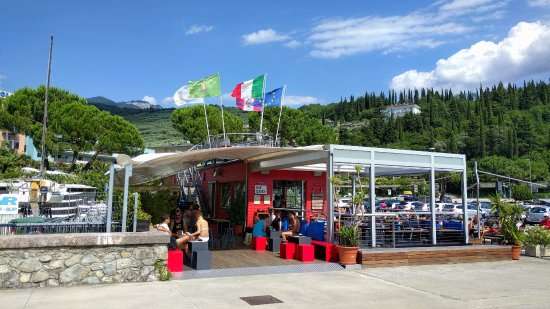 Bar for bikers on Lake Garda – Brescia side.
Buffalo – Steakhouse & Pizza (Via Nanzello, 4, 25010 Limone Sul Garda BS – Tel. 0365 954187)
Buffalo – Steakhouse & Pizza is an informal restaurant with a terrace overlooking the lake, in Limone, with convenient parking, offering meat and pizza dishes, hamburgers, appetizers and desserts!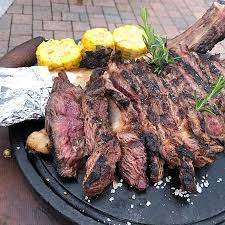 Ristorante Pizzeria Brasa (Via Benaco, 22, 25010 Tremosine BS – Tel. 0365 918119)
Along the famous Strada della Forra, you cannot miss the Brasa Restaurant Pizzeria. A place with typical local cuisine, homemade and with attention to detail, with a wide choice of traditional menus based on both meat and fish. A tip, you can't miss the mixed grill and baked potatoes, a delicacy that will make you continue your ride full and satisfied!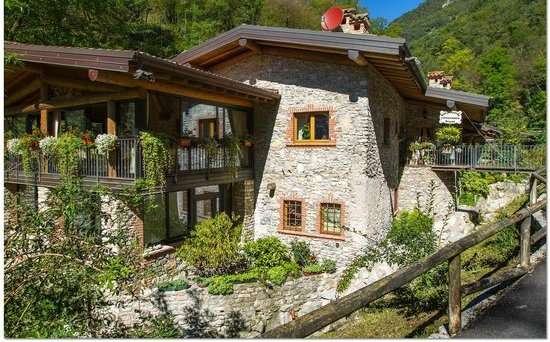 Panorama Al fil (Via Provinciale, 25080 Oldesio BS – Tel. 334 294 8444)
Staying temporarily away from the shores of Lake Garda, we find Panorama Al fil, a bar with a spectacular view overlooking Lake Garda. Great for a coffee break or aperitif!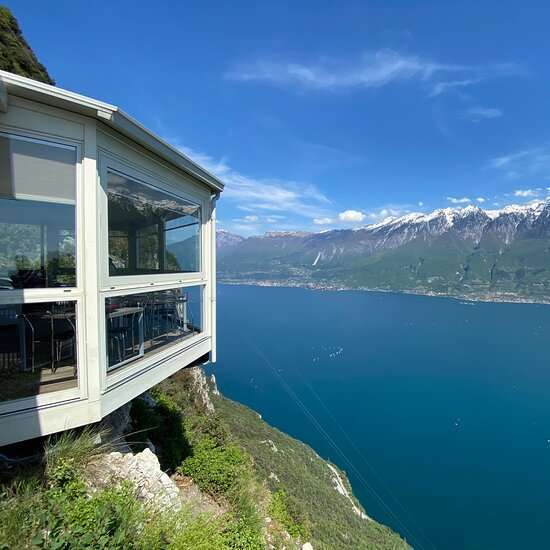 Trattoria Bar Giglio di Roberto Piccinni (Via Angelo Feltrinelli, 163, 25084 Navazzo BS – Tel. 0365 71177)
Trattoria Bar Giglio is an ideal place to stop for a short break. The restaurant directly overlooks Lake Garda, surrounded by greenery, in a quiet position. The menu offers cold cuts and cheeses as appetizers, pasta, meat and the legendary spit with polenta taragna! The restaurant also offers ample parking and a camping area.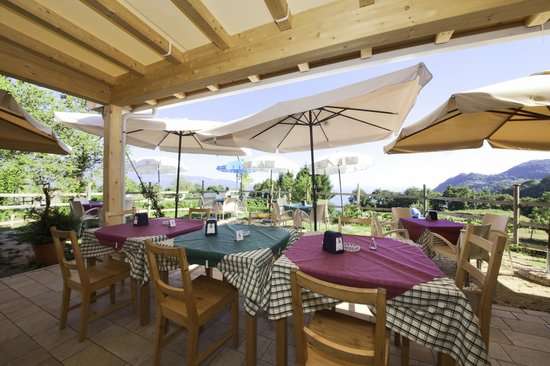 Osteria Snack Bar Al Muli' (Localita' Molino di Bollone, 5, 25080 Valvestino BS – Tel. 338 405 9036)
In Molino di Bollone, where Lake Valvestino is born, a few kilometers from Lake Garda, the Osteria Snack Bar al Mulì is a refreshment point for motorcyclists. The kitchen offers first courses, including penne with venison ragu and strangolapreti with alpine butter, wild boar stew with porcini and polenta, cold cuts and cheeses typical of the area. In the summer months, the house specialty is smoked salmon trout carpaccio.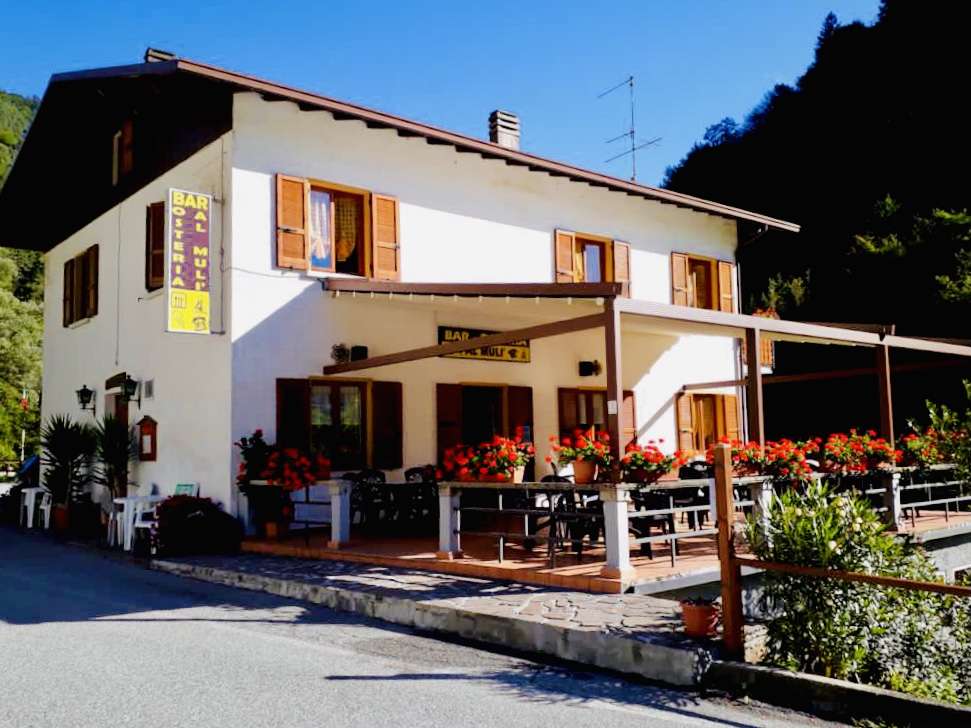 Risto Pub Route 77 (Via Promontorio, 7, 25080 Toscolano Maderno BS – Tel. 349 404 6418)
If you pass through Toscolano Maderno, an excellent stop can be made at Risto Pub Route 77, a brewery with attached kitchen specializing in burgers, cockerel, potatoes, pizza and sandwiches .. to satisfy all tastes!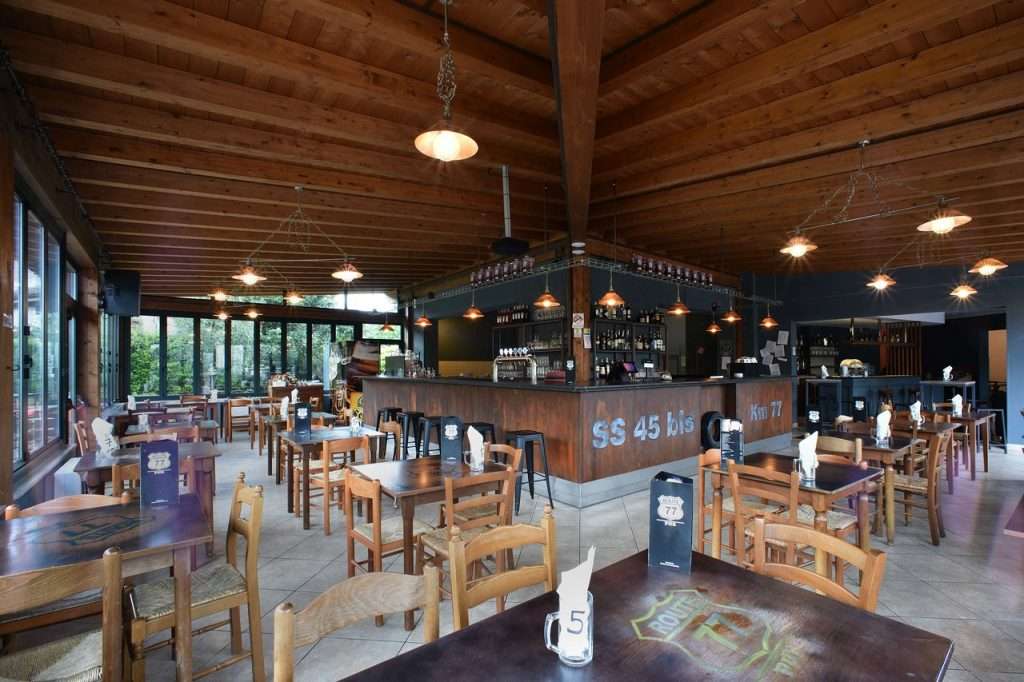 Recyclage Cafè (Via Pergola, 31, 25080 Moniga del Garda BS – Tel. 331 574 7791)
Recyclage Cafè is a modern place with a large parking area and an outdoor terrace. Ideal for an aperitif, a drink accompanied by excellent appetizers.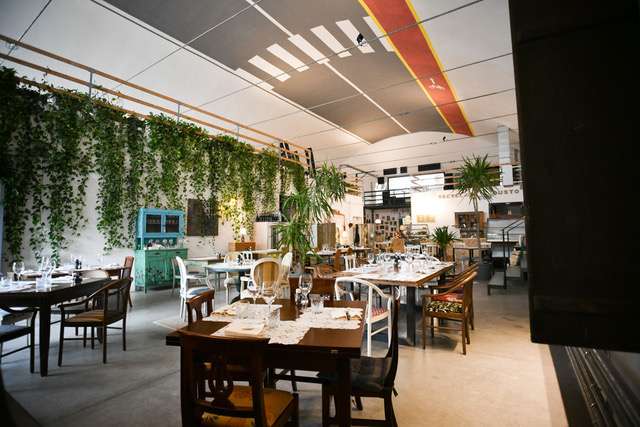 Chiosco al Castello (Via Don Nalini, 25080 Moniga del Garda BS – Tel. 339 749 5255)
Il Chiosco al Castello is a bar with a spectacular view of Lake Garda. Ideal for a short stop, for an aperitif and a quick lunch, it offers the possibility of parking the motorbike along the driveway!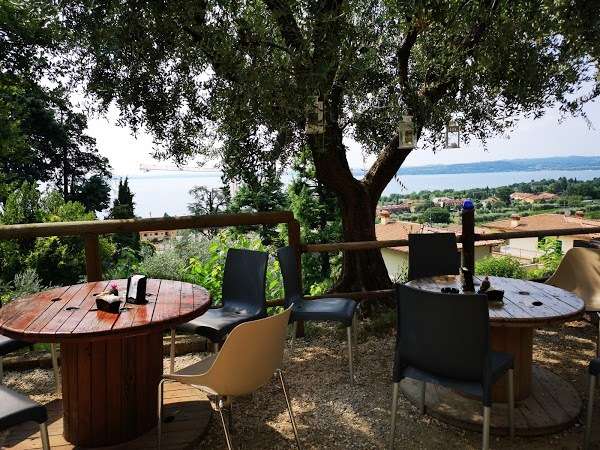 Chiosco La Zattera (Viale Francesco Agello, 25015 Desenzano del Garda BS – Tel. 347 711 2266)
The Chiosco la Zattera is located on the Brescia shore of Lake Garda. Organized with several outdoor tables, straw umbrellas and wooden benches; it is open from the morning, with lake view breakfasts, to the evening, with aperitifs. A great solution to stay away from the tourist chaos especially in the summer months! The restaurant is located next to a convenient municipal parking on the lakefront.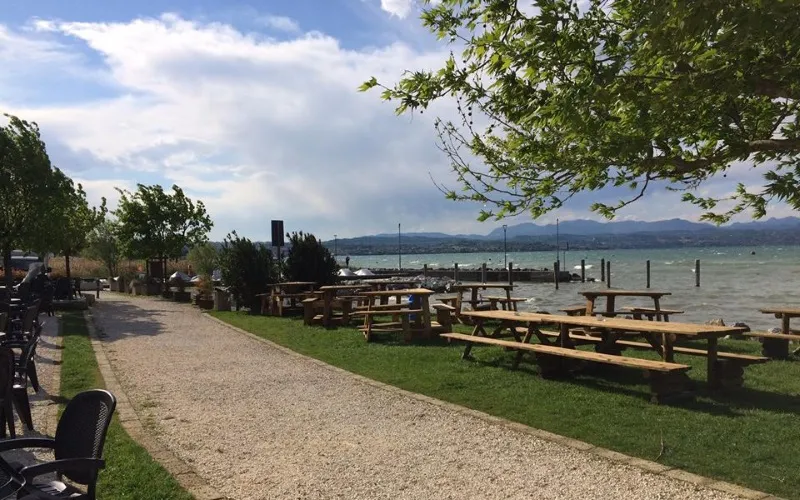 Our tour of the Motorcycle Bars on Lake Garda ends here. If you have suggestions, places to discover and try, questions about your holiday on Lake Garda, do not hesitate to contact us by commenting on this article or writing on our social channels (Instagram, Facebook, Twitter, TikTok), we are always available to help you.
Hotels – Restaurants – Experiences on Lake Garda.
On Lake Garda there are many structures in which to stay, from small and well-kept B&B's to resorts with wellness centers and beauty services, in the section dedicated to hotels find all the information you need to find the most suitable accommodation for you.
The same goes for restaurants, at this link you will find our selection of restaurants on Lake Garda. Remembering that Lake Garda offers several starred restaurants and the quality of the culinary offer is very high.
There are many activities and experiences you can do on Lake Garda, so we recommend you visit the section dedicated to experiences in our magazine by clicking here.