Here is the complete list to find out where and when the fireworks will be held on Lake Garda in the summer season 2022. One of the most anticipated and iconic events of the summer, a fireworks display with a thousand colors that are reflected on the waters of the lake , giving life to the magic of the night!
Often the fires on Lake Garda frame the final evening of the many village festivals, or special events such as the Notte di Fiaba (Tale of the night) which takes place in Riva del Garda.
A tip: in the places that directly overlook the lake shores, a wonderful experience to enjoy the fireworks in complete peace is to rent a boat with or without a driver.
N.B. = the dates of the events in which fireworks are planned on Lake Garda are not yet final and may be subject to reconfirmation or cancellation, close to the date, due to unforeseeable circumstances or due to bad weather. We advise you to always check in advance before traveling.
Fireworks calendar on Lake Garda – 2022 season:
Salò (Salò in Jazz): 02/06/2022
Castelnuovo del Garda (Notte bianca a Gardaland): 18/06/2022
Limone sul Garda: 05/07/2022
Valeggio sul Mincio: 06/07/2022
Salò (Salò in Jazz): 07/07/2022
Castelletto di Brenzone (Festa della Madonna della Salute e dell'Agola): 10/07/2022
Malcesine (Festa di S. Anna): 26/07/2022
Caprino Veronese (Antica Sagra di Santa Cristina): 28/07/2022
Calmasino (Festa di Sant'Anna): 29/07/2022
Salò (Salò in Jazz): 04/08/2022
Cassone di Malcesine (Festa dei ciclamini): 04/08/2022
Colà di Lazise (Antica Sagra della Madonna della Neve): 08/08/2022
Torri del Benaco (Regata finale Bandiera del Lago): 08/08/2022
Rivoltella di Desenzano del Garda (Festa del Lago e dell'Ospite): 09/08/2022
Pescantina (Sagra di San Lorenzo): 10/08/2022
Ponti sul Mincio (Sagra di San Gaetano): 10/08/2022
Bardolino (Aperitivo sotto le stelle): 10/08/2022
Toscolano Maderno: 11/08/2022
Limone sul Garda (Yellow Night): 14/08/2022
Garda (Palio delle Contrade): 15/08/2022
Peschiera del Garda (Palio delle Mura): 23/08/2022
Padenghe sul Garda (Padenghe Medievale): 23/08/2022
Brenzone sul Garda (Porto in Festa): 29/08/2022
Salò (Great Fireworks Show): 27/08/2022 ore 23:00 – In case of rain it will be postponed to August 28th.
Riva del Garda (Notte di Fiaba): 28/08/2022
Salò (Salò in Jazz): 01/09/2022
Desenzano del Garda (Notte Bianca): 05/09/2022
Malcesine (Navene in Festa): 05/09/2022
Limone sul Garda: 06/09/2022
See you next time dear Outdoors!
Silvia Turazza – Garda Outdoors editorial staff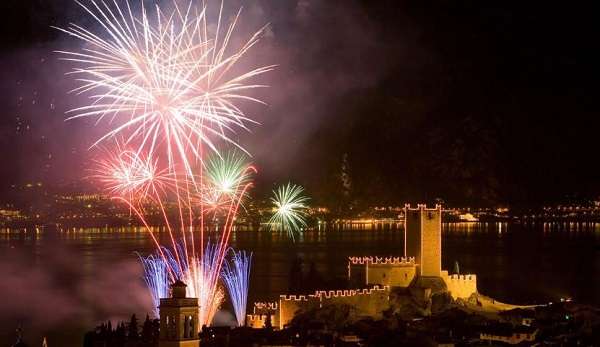 Where to sleep – Where to eat – Experiences on Lake Garda.
On Lake Garda there are many structures in which to stay, from small and well-kept B&B's to resorts with wellness centers and beauty services, in the section dedicated to hotels find all the information you need to find the most suitable accommodation for you.
The same goes for restaurants, at this link you will find our selection of restaurants on Lake Garda. Remembering that Lake Garda offers several starred restaurants and the quality of the culinary offer is very high.
There are many activities and experiences you can do on Lake Garda, so we recommend you visit the section dedicated to experiences in our magazine by clicking here.