Why Kitesurfing on Lake Garda?
Because thanks to its conformation, Lake Garda is an extraordinary wind machine. In the morning we find the Peler blowing from the cool Trentino mountains towards the southern plain. In the afternoon we have the Ora that warmed up goes north.
The natural beauty of the area is unique and incomparable. You can associate kitesurfing with breathtaking views all around you. There are schools of excellence that teach this sport with maximum safety.
In addition, world famous champions come to compete and train on Lake Garda, who always find ideal conditions here.
We are waiting for you!
How to start kitesurfing on Lake Garda?
It's very simple: Lake Garda offers many kitesurfing courses on all shores. To the north, where the lake narrows and the wind is channeled, there are most of the schools. Generally basic courses or individual lessons are offered to start approaching this sport. For any information and advice do not hesitate to ask by sending an email to our editorial staff.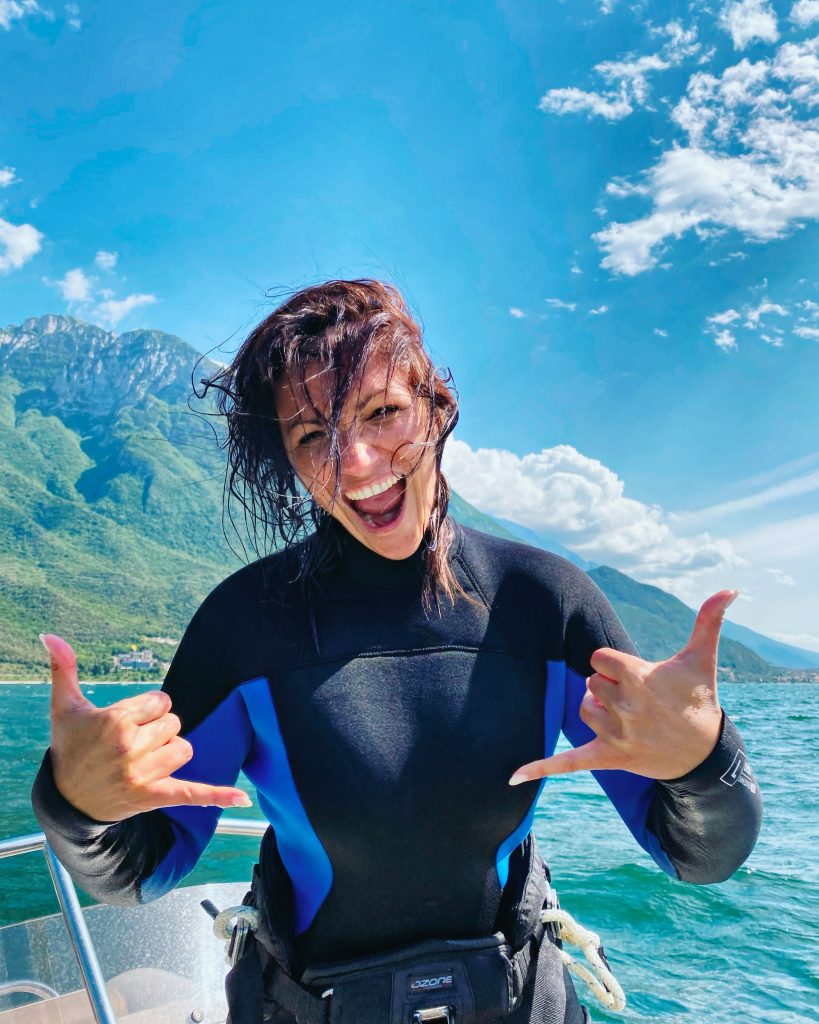 How long does it take to learn how to Kitesurf on Lake Garda?
You don't need weeks of teaching and testing to be able to be independent in this sport. In 2-3 days, with good local instructors, you will be able to start having a good time becoming more and more resourceful and capable as your training continues.
What equipment do you need to learn how to Kitesurfing on Lake Garda?
None. The schools will provide you with all the equipment you need to get started: kite, board, wetsuit, harness, life jacket and helmet. If you already own a wetsuit, it will certainly be more convenient to use the one you own. Once the course is finished and you have understood that you will no longer be able to do without the regeneration that this sport creates for your mood and your body, the instructors will be able to advise you on all the most suitable technical equipment for you to purchase.
How much does it cost to start Kitesurfing on Lake Garda?
A basic course to start this sport, bearing in mind that the rental of all equipment is included in the price, on average it costs around 300 euros (for a small group of people). Obviously it is also possible to take individual lessons for a faster and more targeted learning or, for those who are not newbies, in order to improve the technique and the jumps.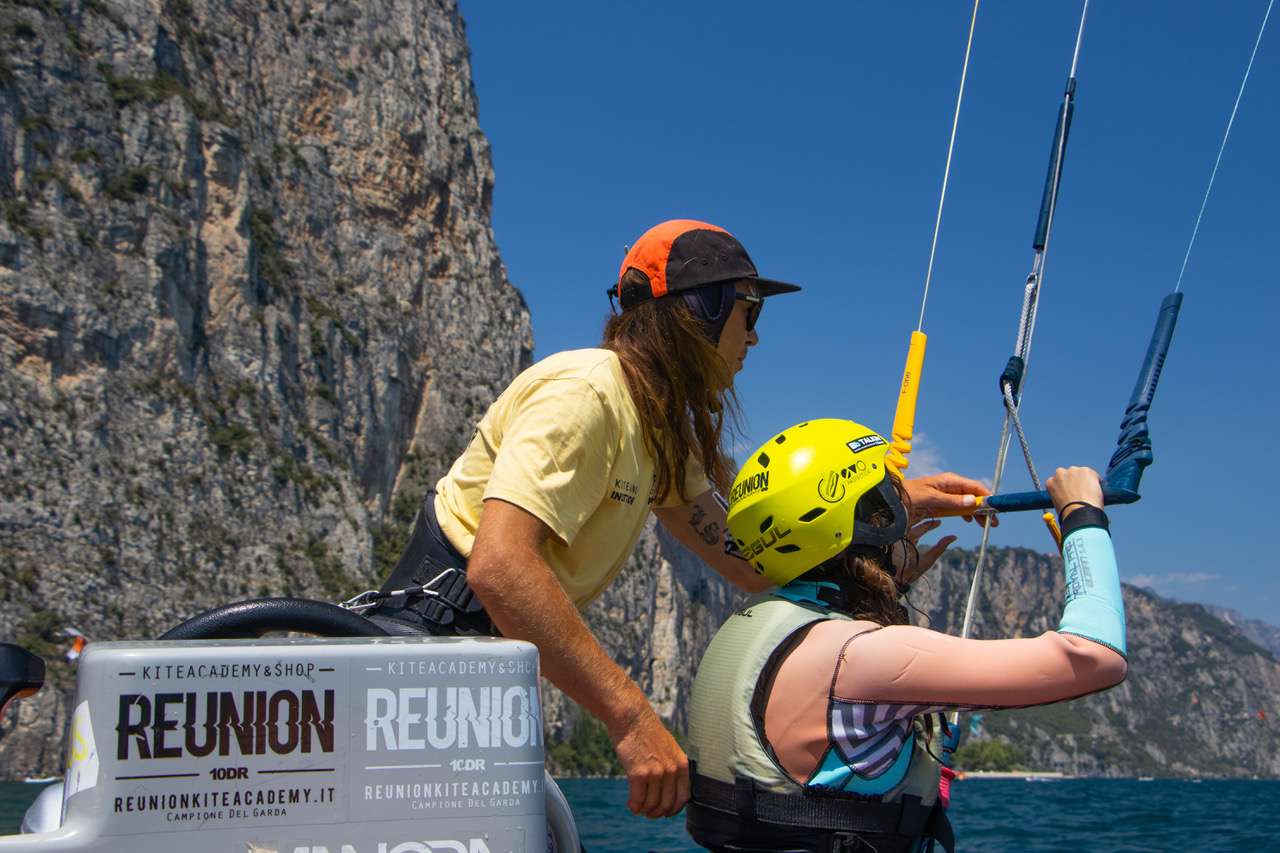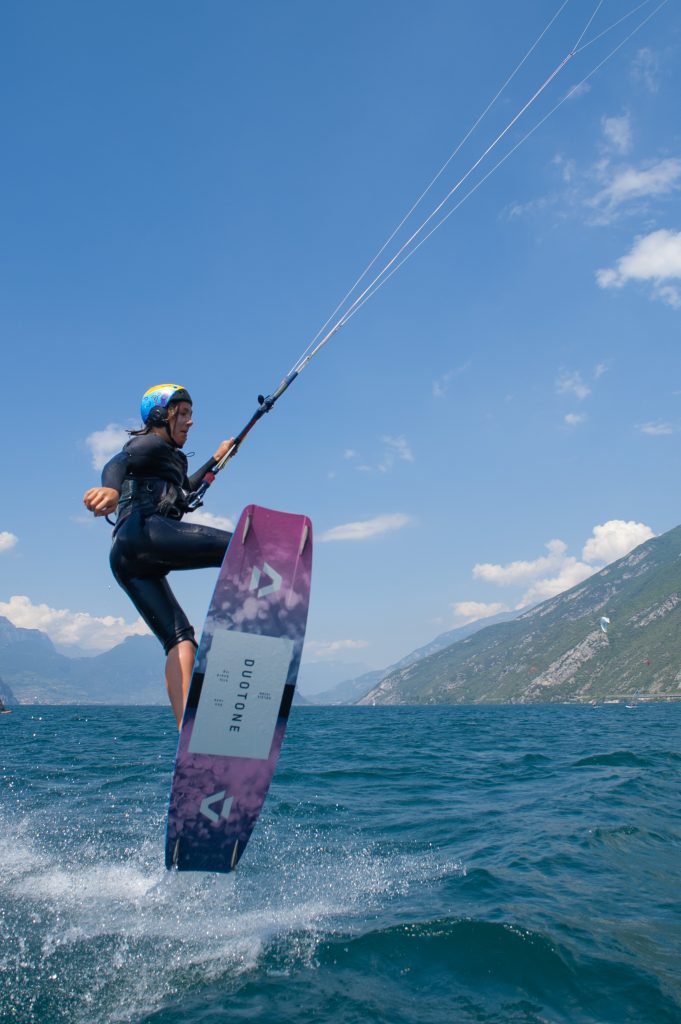 When to start Kitesurfing on Lake Garda?
Keeping in mind that to practice this sport there is no seasonality because with the wetsuit the most daring go quietly in the water to train even in the middle of winter, for beginners the best time is from April/May to October in conjunction with the launch of the various courses and the opening of schools.
Is Kitesurfing on Lake Garda a sport suitable for everyone?
In addition to requiring good water skills, this sport is recommended for ages 14 and up .
kitesurfing, born in the late nineties, is becoming increasingly popular among water sports. I recommend you try it because the feeling of freedom it gives is unique!
Which school to choose for kitesurfing?
We advise you:
REUNION KITE & WING ACADEMY – Campione del Garda (BS)
NAVENE KITERS' EXPERIENCE – Navene di Malcesine (VR).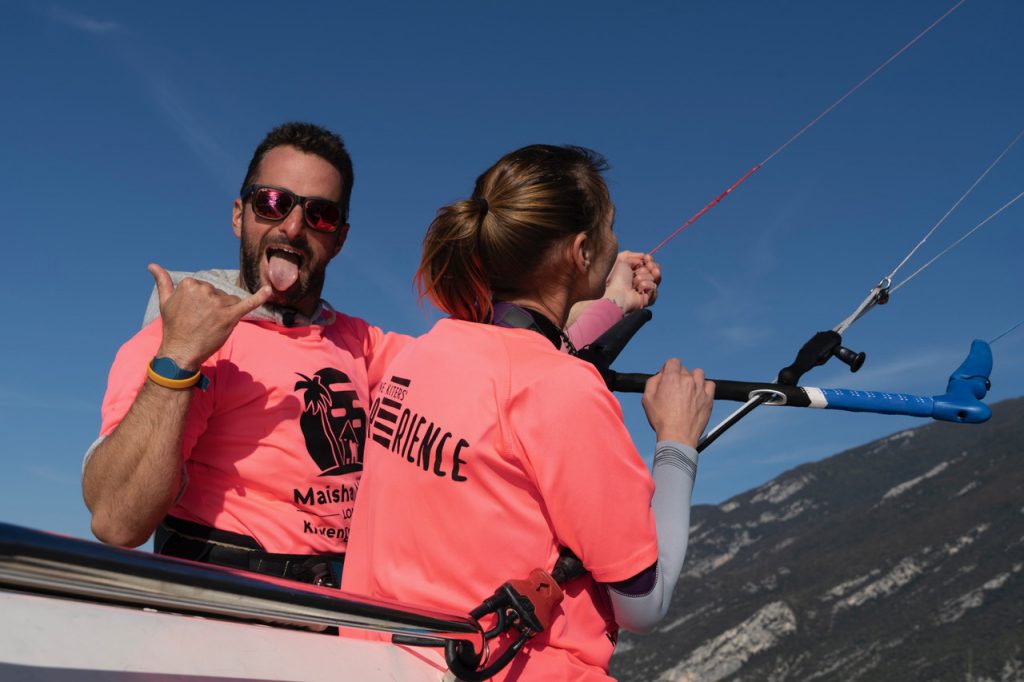 See you next time dear Outdoors!
Silvia Turazza – Garda Outdoors Editorial Staff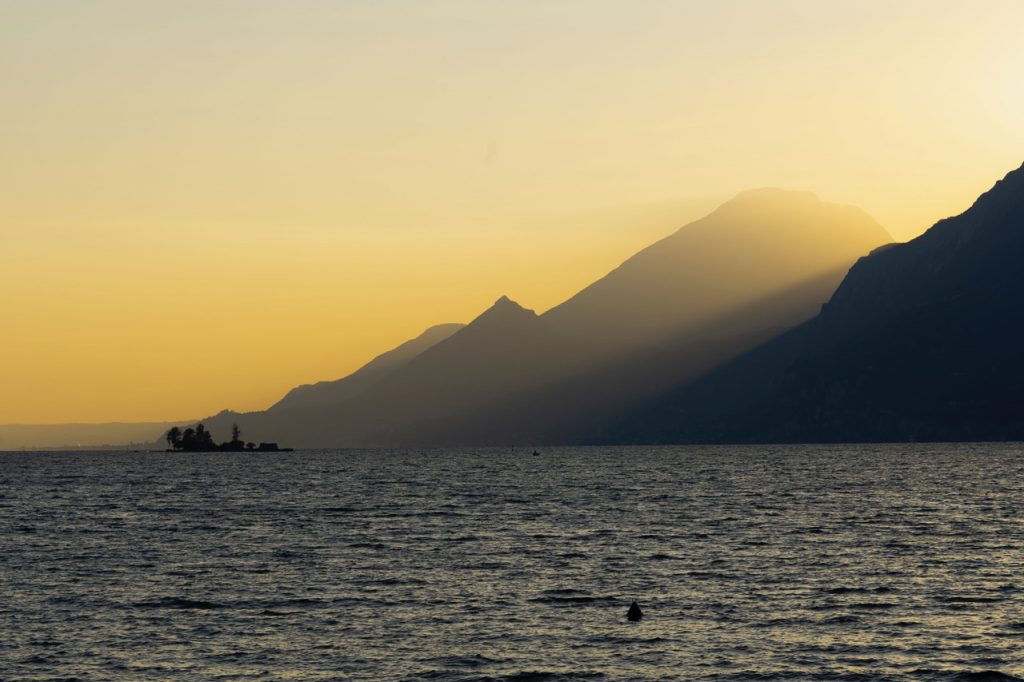 Hotels – Restaurants – Experiences on Lake Garda.
On Lake Garda there are many structures in which to stay, from small and well-kept B&B's to resorts with wellness centers and beauty services, in the section dedicated to hotels find all the information you need to find the most suitable accommodation for you.
The same goes for restaurants, at this link you will find our selection of restaurants on Lake Garda. Remembering that Lake Garda offers several starred restaurants and the quality of the culinary offer is very high.
There are many activities and experiences you can do on Lake Garda, so we recommend you visit the section dedicated to experiences in our magazine by clicking here.
For any questions about your holiday on Lake Garda, do not hesitate to contact us by commenting on this article or by writing on our social channels (Instagram, Facebook, Twitter , TikTok), we are always available to help you.