If you pass between the months of October and November from Lake Garda it will be very easy for you to meet entire families intent on harvesting olives.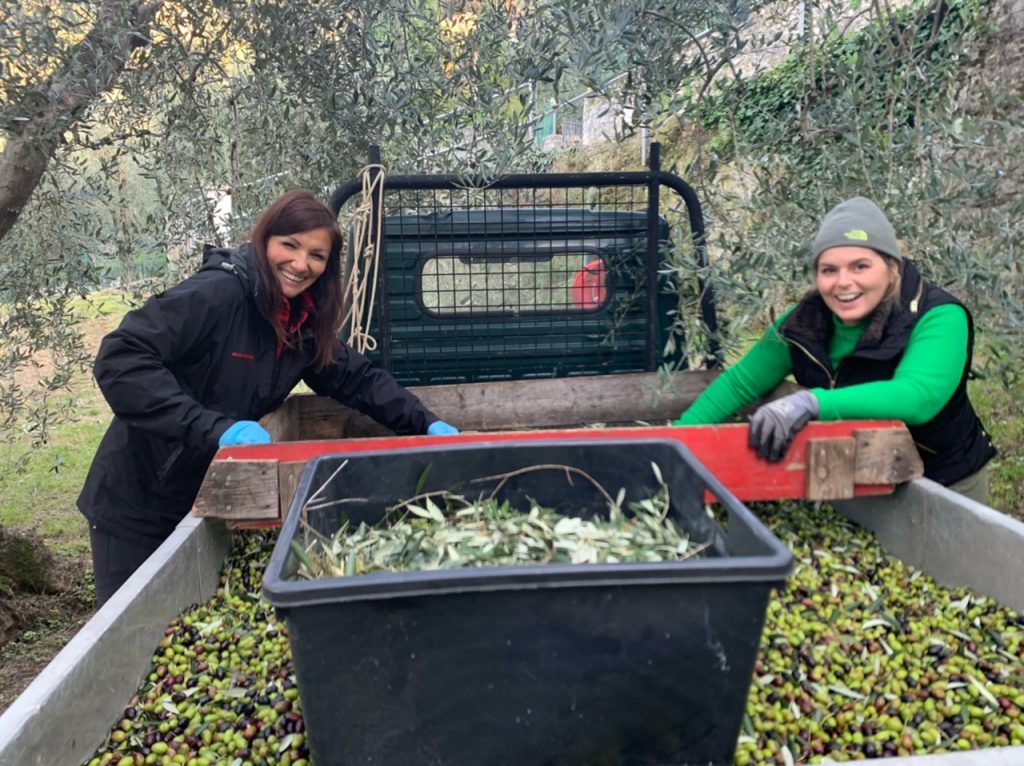 You will be able to observe the nets on the ground, the single-up stairs on which to climb to reach the highest branches, a series of vibrating tools to make the olives fall without damaging the plants. But the thing that I want to underline in the midst of all the technology that is evolving is above all this: the oldest and most effective means are always the hands. Those rakes full of fingers that delicately come to detach even the most rebellious olive!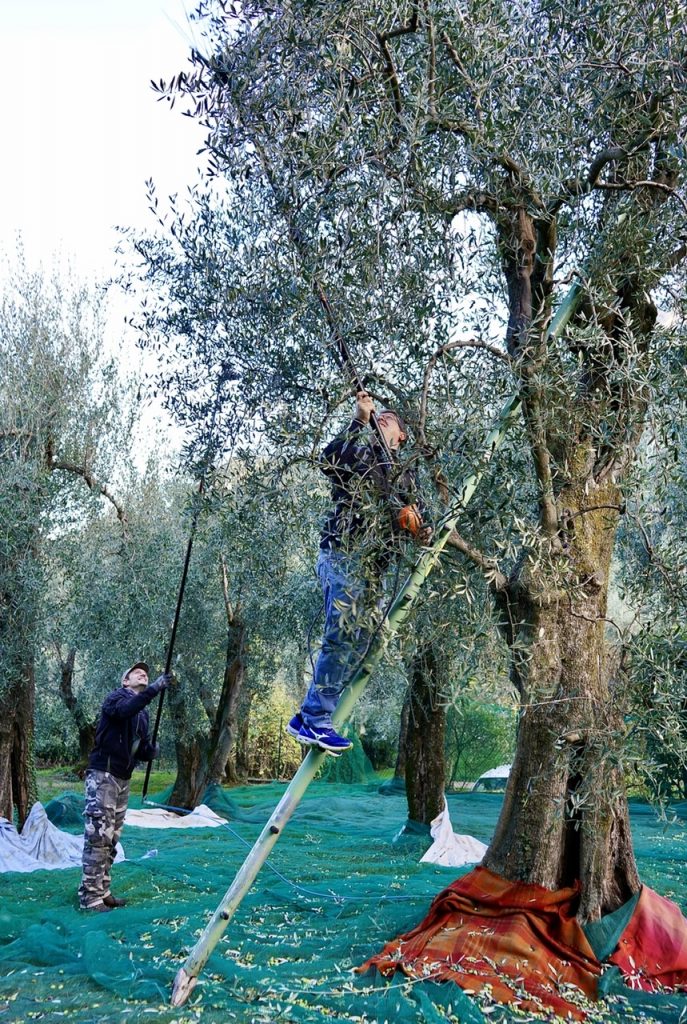 So the Garda oil that many of us consume on a daily basis is not just a delicacy for the palate. It brings with it the love and dedication of all the gestures I have just described. Bring the laughter and confidences of shared work. It brings the satisfaction of continuing a great tradition that makes Lake Garda unique and special: Garda DOP extra virgin olive oil.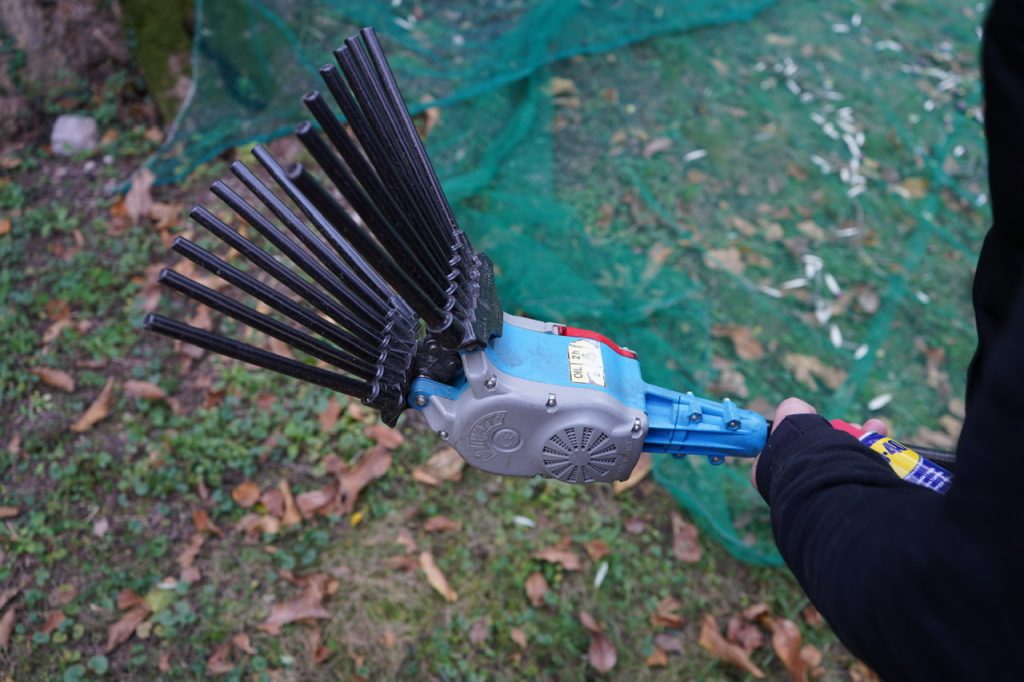 Garda DOP extra virgin olive oil: what are its characteristics?
The Extra Virgin Olive Oil of Garda Dop is produced in the provinces of Brescia, Verona, Trento and Mantua.
The cultivation of the olive tree on the shores of Lake Garda has ancient origins and traditions.
The Garda populations have cultivated olive trees since Roman times, so much so that writers such as Catullo, D'Annunzio, Goethe and Carducci have told of their presence.
The Garda oil, thanks to the favorable Mediterranean micro climate of the area, is the oil produced further north in the world.
Extra virgin olive oil Garda DOP is distinguished from extra virgin olive oils of other origins for its elegant and delicate flavor and for the light and characteristic almond aftertaste.
The main varieties (cultivars) used for the production of Garda DOP are Casaliva or Drizzar, Lezzo, Favarol, Razza, Rossanel, Fort, Morcai, Pendolino, all typical of the Garda area.
Oil Garda DOP, in particular, has the following characteristics:
intense to marked golden-green color, due to the high content of chlorophyll;
delicate fruity scent;
soft taste with a typical almond aftertaste;
maximum acidity in oleic acid equal to or less than 0.5% (higher values are not allowed than for other extra virgin oils are allowed).
Thanks to its unique characteristics, which make it truly versatile in the kitchen, Garda DOP oil is used in many recipes. The delicate flavor in fact enhances the dishes without covering the taste. Delicious both raw and cooked, it is the ideal ingredient to be used for fish-based dishes, white meats, carpaccio, raw and cooked vegetables, dips, legumes, fresh or semi-aged cheeses. Garda DOP oil is also excellent for the preparation of desserts, paired with chocolate, with sorbets and ice cream.
It is also used in cosmetics for its high nourishing and moisturizing value.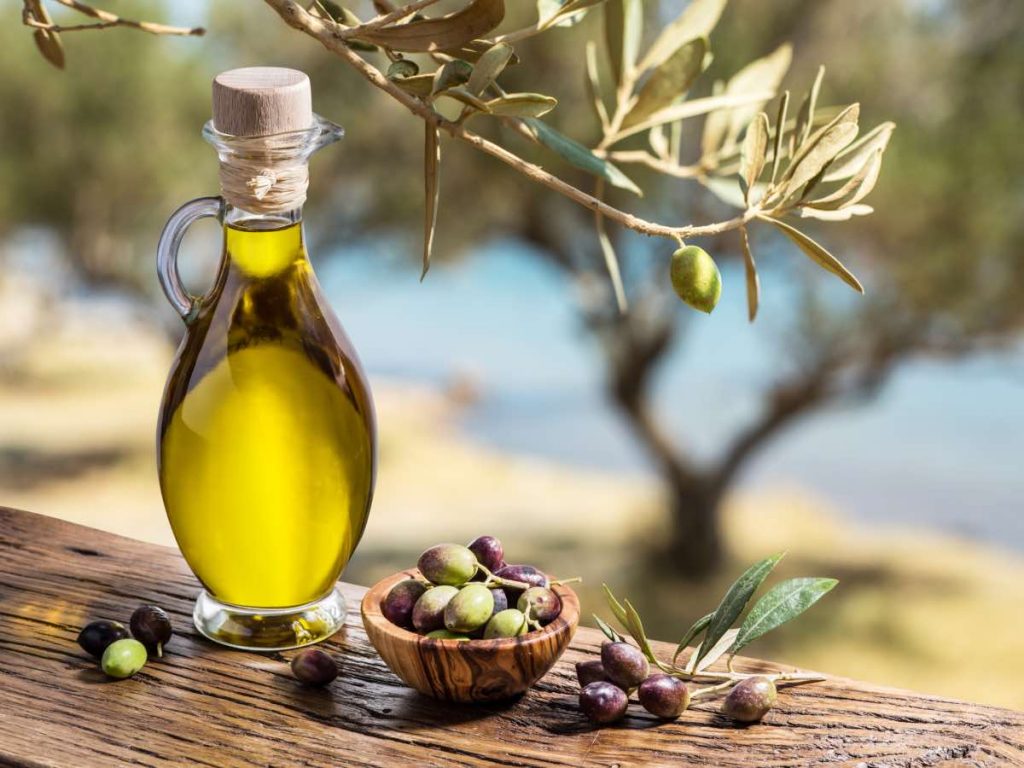 Garda DOP extra virgin olive oil: where to buy it?
We list all the oil mills and oil mills where you can buy Garda DOP green gold:
Frantoio Montecroce
Oleificio
Desenzano del Garda BS
Frantoio Cooperativa Agricola San Felice del Benaco
Cooperativa dei produttori di olio di oliva
Brescia, BS
Olio Turri – Frantoio Fratelli Turri
Oleificio
Cavaion veronese VR
FRANTOIO CAMPAZZI
Oleificio
Bardolino VR
Frantoio Veronesi Srl
Oleificio
Lazise VR
Frantoio Bonaspetti Carlo Eredi
Oleificio
Toscolano Maderno BS
Ramanzini Egidio
Oleificio
Desenzano del Garda BS
Frantoio del Bornico
Oleificio
Toscolano Maderno BS
Frantoio Valtenesi
Oleificio
Polpenazze del Garda BS
Avanzi Cantina e Frantoio
Azienda vinicola
Manerba del Garda BS
Frantoio Manestrini
Oleificio
Soiano BS
Consorzio di Tutela dell'Olio Extravergine Garda DOP
Oleificio
Cavaion Veronese VR
Olearia Del Garda S.P.A.
Oleificio
Bardolino VR
Frantoio Morani
Oleificio
Polpenazze del Garda BS
Oleificio di Moniga S.r.l.
Oleificio
Moniga del Garda BS
Olio Viola Srl
Oleificio
Bardolino VR
Azienda Agricola Giacomini Valerio
Oleificio
Villavetro di Gargnano BS
Venturelli Crea Srl
Oleificio
Puegnago sul Garda BS
Olearia Caldera Srl
Oleificio
Manerba del Garda BS
Consorzio Olivicoltori di Malcesine
Oleificio
Malcesine VR
Cooperativa Piccoli Produttori
Oleificio
Castelletto VR
Cooperativa Agricola Possidenti Oliveti S.a.c.
Oleificio
Limone Sul Garda BS
Azienda Agricola I Roccoli
Oleificio
Bardolino VR
Oliocru Shop, Domus Olivae
Oleificio
Riva del Garda TN
Frantoio Ivo Bertamini
Oleificio
Bolognano-vignole TN
Brioleum FRANTOIO
Oleificio
Arco TN
Oleificio Sociale Di Bardolino Srl
Oleificio
Bardolino VR
Azienda Agricola Le Sorte
Oleificio
Torri del Benaco VR VR
Olio Extra Vergine Redoro Srl Frantoi Veneti
Oleificio
Grezzana VR
Turri Fratelli (S.r.l.)
Oleificio
Tosoni Frantoio e Serra
Azienda di imbottigliamento dell'olio di oliva
Moniga del Garda BS
Oleificio Gargnano Di Tavernini Alessandro & C. Snc
Oleificio
Gargnano BS
Paolo Bonomelli Boutique Olive Farm
Oleificio
Torri del Benaco VR
Azienda Agricola Il Brolo
Oleificio
Polpenazze del Garda BS
Latteria Turnaria di Tignale – Bio Oleificio
Oleificio
Tignale BS
Consorzio Olivicoltori Malcesine – Punto Vendita
Negozio di prodotti alimentari per gourmet
Malcesine VR
Comincioli
Azienda vinicola
Puegnago sul Garda BS
Frantoio Vedovelli
Ufficio aziendale
Torri del Benaco VR
POG – Produttori Olivicoli Gardesani
Oleificio
Ceredello VR
Frantoio Guglielmi
Oleificio
Fumane VR
Antico Frantoio Redoro Mezzane
Oleificio
Mezzane di Sotto VR
Agraria Riva del Garda
Azienda vinicola
Riva del Garda TN
Azienda Agricola Vallonga
Oleificio
Bardolino VR
S.S.Agricola Il Giogo Frantoio e Agricampeggio
Oleificio
Bussolengo VR
Museo dell'olio – Oleificio Cisano
Oleificio
Cisano VR
Frantoio Olive Antonioli Angelo
Manerba del Garda BS
Frantoio Vela
Oleificio
Marone BS
Frantoio per Olive di Salvagno Giovanni
Oleificio
Verona VR
Frantoio Muraglie
Oleificio
Monzambano MN
Cantine F.Lli Avanzi Di Avanzi Gianpietro & C. (S.N.C.)
Azienda vinicola
Polpenazze del Garda BS
Cantina Franzosi
Enoteca
Puegnago sul Garda BS
FRANTOIO BALLARINI
Oleificio
Cazzano di Tramigna VR
Frantoio Bonamini
Oleificio
Illasi VR
Agritur Madonna Delle Vittorie
Agriturismo
Arco TN
Hotels – Restaurants – Experiences on Lake Garda.
On Lake Garda there are many structures in which to stay, from small and well-kept B&B's to resorts with wellness centers and beauty services, in the section dedicated to hotels find all the information you need to find the most suitable accommodation for you.
The same goes for restaurants, at this link you will find our selection of restaurants on Lake Garda. Remembering that Lake Garda offers several starred restaurants and the quality of the culinary offer is very high.
There are many activities and experiences you can do on Lake Garda, so we recommend you visit the section dedicated to experiences in our magazine by clicking here.
For any questions about your holiday on Lake Garda, do not hesitate to contact us by commenting on this article or by writing on our social channels (Instagram, Facebook, Twitter , TikTok), we are always available to help you.
See you next time dear Outdoors!
Silvia Turazza – Garda Outdoors Editorial Staff