Canale di Tenno is one of the most beautiful medieval villages in Italy.
There are places that don't have a "when". Countries where, walking through the alleys or turning the corner of a piazza, you expect to meet a medieval merchant or some begging friar.
One of these villages is Canale di Tenno , a very small village of 40 souls, resting on the side of the mountain and overlooking the north bank of the Lago di Garda.
From Riva del Garda the road to get to Canale di Tenno climbs winding and after a few kilometers of battle against the curves, you arrive in the small hamlet.
What to se and to do in a day trip in Canale di Tenno.
Everything in Canale di Tenno revolves around the tiny square and everything takes place under the faces of the houses. At ground level, in fact, each house has a "face": spaces, real rooms with a barrel face obviously made of stone. Often these faces are communicating with other houses through long stone corridors, almost as if they were common spaces.
After all, the first news of this medieval village dates back to 1211, dark years in which "forming community" was the only way to survive. Today these faces give life, in the Advent period, to one of the most beautiful Christmas markets that can be visited. Typical local products, handicrafts, old wooden games are displayed under the faces, for the joy not only of children ….!
But Canale is not just a Christmas market… on the contrary!
In the small square, in a splendid old house, there is a B & amp; B "La Piazzetta di Canale" ideal for a romantic weekend: if you love tête-a-tête this is the place for you!

The Artists' House in Canale di Tenno.
Canale di Tenno, in fact, is the perfect place to regenerate and appropriate some of your time: in fact, here you can find the ideal dimension. The artists had noticed it, since the 1960s. Or rather: the first to notice it was Giacomo Vittone, a Turin painter who, having moved to Riva del Garda at the beginning of the twentieth century, he fell in love with Canale. Today it is named after him "The House of Artists".
This is a building that, since the 1960s, has hosted artists of all kinds in search of inspiration and who, in exchange for their stay, left one of their works. Today the house is managed by the Municipalities of Tenno, Arco and Riva del Garda and hosts conventions, conferences and art exhibitions, as well as some artists or famous people in search of tranquility.
And the mountain that slopes down to make room for the tip of Lake Garda actually offers a feeling of great tranquility, as well as a view that is not easily forgotten!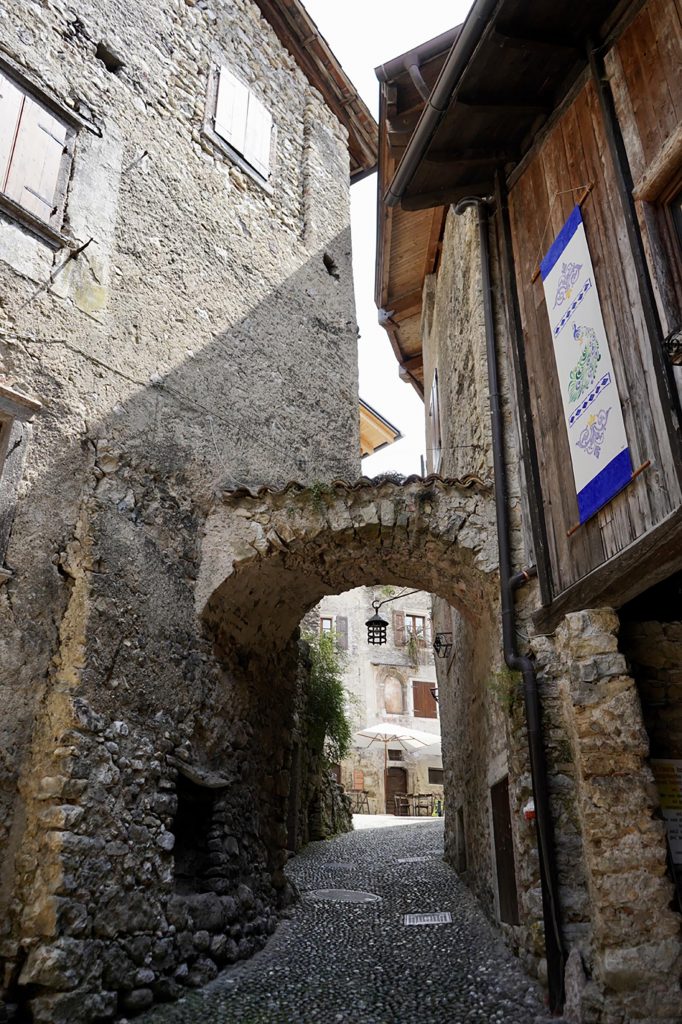 Typical products.
But the mountains also offer excellent products such as oil, cheeses, vinegar (produced in the nearby vinegar factory) and above all the famous "carne salada".
It was born in fact between the municipalities of Arco and Tenno between the sixteenth and seventeenth centuries and is one of the most delicious products of Trentino. It is a very lean beef rump, sprinkled with a mixture of salt and aromas and left to rest in special containers, where it remains – in the dark and at a temperature of 12 degrees – for 20 days. It can be eaten raw or lightly seared … but in any case, once tasted, you can't do without it!
Just as you can't help fall in love with the timeless dimension of Canale di Tenno and, once you get to know it, you will have a great desire to return!
In the month of August there is Rustico Medioevo an event that lasts 8 days and involves the entire medieval village of Canale di Tenno. The organization of events dedicated to the Middle Ages helps to transport you back in time by catapulting you into another era, with the choreographies, the banners and torches that embellish the village, the storytellers who announce the shows and the costumed figures that recreate the magic of many centuries ago.
For any questions about your holiday on Lake Garda, do not hesitate to contact us by commenting on this article or by writing on our social channels (Instagram, Facebook, Twitter , TikTok), we are always available to help you.
Hotels – Restaurants – Experiences on Lake Garda.
On Lake Garda there are many structures in which to stay, from small and well-kept B&B's to resorts with wellness centers and beauty services, in the section dedicated to hotels find all the information you need to find the most suitable accommodation for you.
The same goes for restaurants, at this link you will find our selection of restaurants on Lake Garda. Remembering that Lake Garda offers several starred restaurants and the quality of the culinary offer is very high.
There are many activities and experiences you can do on Lake Garda, so we recommend you visit the section dedicated to experiences in our magazine by clicking here.
See you next time dear Outdoors!