Who is the best in the realm? If there are many good reasons to choose extra virgin olive oil among the various oils, the reasons multiply when we are faced with a bottle of EVO Dop
"And, since we have made Garda our paradise, hats off to the three faces of EVO Garda Dop . "
"EVO of… the Middle Ages?" .
Yes and no, because we doubt the acronym of ExtraVergine di Oliva was used in the 5th century AD However, precisely at that time the Garda oil stood out for its delicacy and in the early Middle Ages "4-6 kg of Garda oil was worth as much as a very large pig".
Do you want our ancestors not to have intuited something particular to limit, in times of famine, the quantity of tasty meat and hams?
Gold in fact.
In our Gardense food "jewelry" and, in general, in Italy, PDO is the Ferrari of agri-food. Not only because a product with a Protected Designation of Origin requires compliance with a strict production disciplinary from which there is no escape, but also because it certifies the birth of an excellence only and exclusively in that territory and not elsewhere.
Traceability after rigorous checks is signed by a numbered mark on each bottle and we love the Oro del Benaco which falls within the top five Italian PDO olive farms. Thanks also to the habitat protected by the mountains and with a Mediterranean-like climate, Garda Dop is the heritage of 67 municipalities in four provinces, Verona, Mantua, Brescia and Trento.
The olives are of the Casaliva, Frantoio and Leccino varieties, present in different percentages in three subzones: Garda Bresciano Dop, Garda Orientale Dop and Garda Trentino Dop where we also find the Pendolino cultivar. Each has its own distinctive taste.
How to try: small differences.
Too bad there is less than what you would like because Garda is a large lake but the production yield of the EVO Garda Dop is limited .
The reason is obvious: not only are we talking about an oil of high organoleptic quality , at the center of a scientific research project ad hoc, the Oligar, with maximum acidity that does not exceed 0.5% , but of a food that, used instead of other saturated fats, is an aid against bad cholesterol and arterial problems, as well as rich in vitamin E and biophenolic compounds.
Characterized by renowned anti-aging properties for the presence of antioxidants, it is a panacea for the digestive system and counteracts the the onset of certain cancers and osteoporosis. Just a few drops and some expert advice are enough.
The color fades from green to yellow, the scent is fruity, medium or delicate, if you taste it you can feel a sweet scent and a typical almond aftertaste . A symphony of fragrances and perfumes in balance, in short, with some typical features based on the production microzones.
Keep in mind that Eastern Garda Dop is slightly bitter-spicy but is the sweetest of the three. The flavor escalates from Garda Bresciano Dop to the decisive Garda Trentino Dop .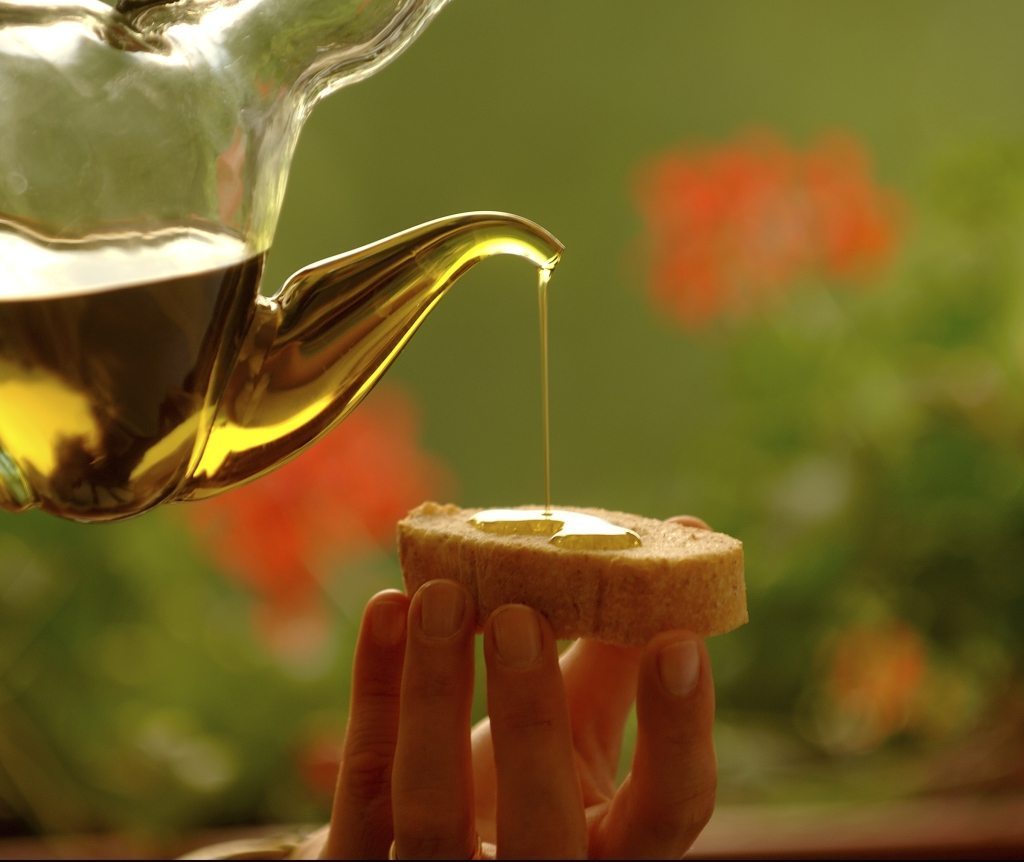 The king of Benacense cuisine.
At the table even the food pairings are different: the Oriental is perfect for fish, vegetables and sweets (instead of butter, Bresciano prefers white or sliced ​​beef, fresh or semi-aged cheeses, bruschetta. Finally, Trentino goes well with more structured dishes such as carne salada, a Florentine steak or pike in sauce.
In general, as the writer and journalist Luigi Caricato attests in the book "Olio di lago – Garda Dop" (ed. Mondadori ) Garda Dop is used raw or cooked and goes well with numerous recipes .
They range from dishes based on lake fish to meats, carpaccio, meat and fish, salted meat, dips, cooked and raw vegetables, sauces , bruschetta and low-fat cheeses or stracchino.
It can also be used to prepare desserts , combined with chocolate, and for sorbets and ice cream. In short, a champion: to realize it, just try a tasting test alone or, more spartanly, on a piece of bread. And EVO Garda Dop begins to tell its precious story every day.
Hotels – Restaurants – Experiences on Lake Garda.
On Lake Garda there are many structures in which to stay, from small and well-kept B&B's to resorts with wellness centers and beauty services, in the section dedicated to hotels find all the information you need to find the most suitable accommodation for you.
The same goes for restaurants, at this link you will find our selection of restaurants on Lake Garda. Remembering that Lake Garda offers several starred restaurants and the quality of the culinary offer is very high.
There are many activities and experiences you can do on Lake Garda, so we recommend you visit the section dedicated to experiences in our magazine by clicking here.