La carne salada
Thirty by birth but also loved by international palates, carne salada is an excellent resource for a single gourmet dish rather than a cured meat. It is generally prepared with cuts of beef, in particular with rump or sirloin.
An art that has been handed down from family to family: after careful degreasing, the meat is sprinkled with salt and herbs and left to flavor for a period of up to five weeks in dark rooms and at a maximum temperature of 12 ° C and should be massaged every 3 days. In this period of time the meat loses its liquid forming a natural "brine". Hence the term "salted meat", which in the local dialect has been translated into "carne salada" .
Among the lesser known variants we mention the smoked one, called Carne Fumada della Val di Cembra.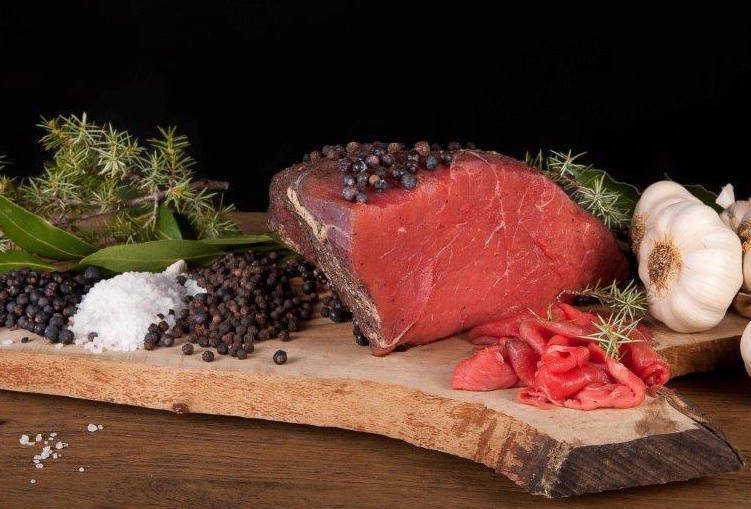 The origins of carne salada are lost in the mists of time
The first attested documents date back to the fifteenth century. Its rapid diffusion in local cookbooks since the 1800s clearly suggests its importance in Trentino cuisine. The reason is also linked to an economic factor: Michelangelo Mariani in his 1671 text on Trent and the Council of Trent refers that "carnal in Trent are precious and at a good price all year round".
Where to find the Carne Salada
On the production areas of this specialty, the municipalities of Arco, Varone and Tenno but Trentino has broadly embraced this recipe and many restaurants and trattorias They offer it on their menu, many delicatessens market it to bring it to our tables.
Until the 1950s, someone recalls, the pieces of beef to be preserved over time were salted and cooked during the winter and spring in salt-free water because they already had excellent flavor. Each family prepared it with their own mix of aromas, including garlic, black pepper, juniper berries, bay leaves and rosemary.
How to taste-carne-salada today
Many offer it sautéed or grilled, which accentuates its flavor, combined with beans; according to other traditions it is served with potato pie. But the litmus test is served raw as carpaccio or tartare , topped with a drizzle of local extra virgin olive oil and paired with a slice of black bread.
If we look at it closely, naked and raw, the color is ruby ​​red, the taste is savory, with a good balance between aromatic and spicy. And it is precisely in this way in our opinion that the carne salada reveals its champion temperament – or reveals, instead, its defects.
Unparalleled flavor at the table
The culmination of the carne salada recipe is a taste harmony that does not make you think of the individual ingredients with which it is made but of an inseparable whole. In spite of what one might think, precisely the aromaticity combined with the tenderness of the meat can reserve an unsuspected delicacy of taste.
It happened to me when I least expected it, in a Trentino trattoria on the slopes of wonderful mountains where everyone, inevitably, ordered carne salada. As soon as it arrived in my presence, the carne salada was sunny, soft when cut.
All sensations confirmed to the taste: it melted in the mouth, the garlic plunged into a kaleidoscope of taste sensations and disappeared immediately, bowing to so much culinary knowledge. On the palate there remained an elegant flavor and a capricious longing, which "stamped its feet" to enjoy it again.
So it's carne salada, today for lunch, for everyone.
Hotels – Restaurants – Experiences on Lake Garda.
On Lake Garda there are many structures in which to stay, from small and well-kept B&B's to resorts with wellness centers and beauty services, in the section dedicated to hotels find all the information you need to find the most suitable accommodation for you.
The same goes for restaurants, at this link you will find our selection of restaurants on Lake Garda. Remembering that Lake Garda offers several starred restaurants and the quality of the culinary offer is very high.
There are many activities and experiences you can do on Lake Garda, so we recommend you visit the section dedicated to experiences in our magazine by clicking here.