The Heller Garden is a splendid 10 thousand square meter garden, which contains botanical species from all over the world (from the Alps to the Himalayas, from Mato Grosso to New Zealand, from Japan to Australia, Canada, Africa), ponds and water features that would make all Impressionist painters fall in love and numerous art installations to admire.
It is located in the heart of Gardone Riviera, on the Brescia side of Lake Garda. Let's find out together!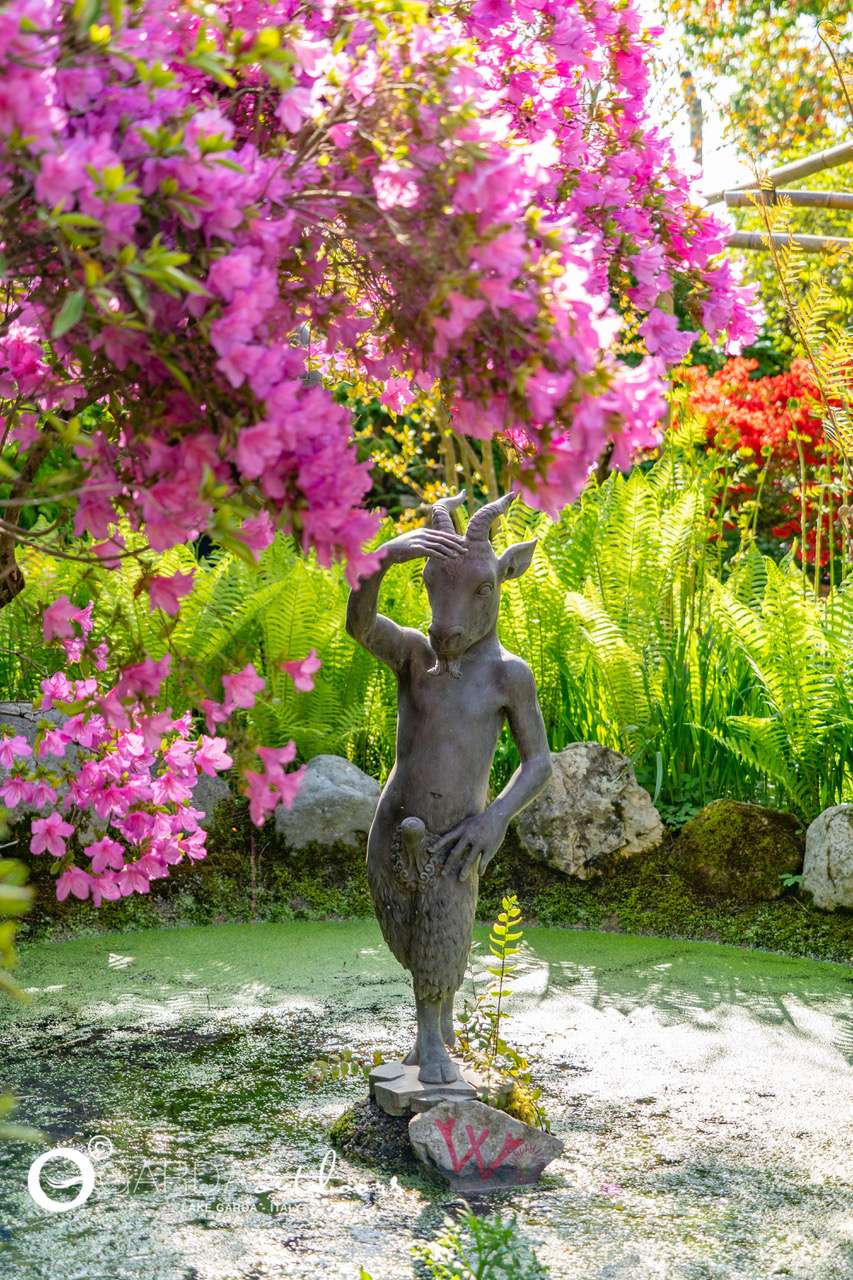 Heller Garden: historical notes.
Around 1901 Arturo Hruska, of Czechoslovakian origin, graduated in Munich in 1906, dentist of the Tsars, of the Italian Royal Family, of Popes Pius XII and John XXIII, of King Albert of Belgium, naturalist, botanist, moved from Austria to Gardone Riviera.
Right from the start, the beauty and Mediterranean climate of the lake excited him so much that he bought land, initially terraced with vineyards, with an extension of about 15,000 square meters on the slope of Mount Lavino. It is here that Hurska begins to design his botanical garden, which was built between 1912 and 1914.
In 1989 the garden took the name of "André Heller Foundation Botanical Garden" with the current owner.
Andrè Heller, born in Vienna in 1947, is one of the most influential and successful multimedia artists in the world. His achievements include artistic works for gardens, wunderkammern, processions, millions of records sold as a songwriter of his own songs, concerts and conferences in Europe, Asia and North America, large flying and floating sculptures, films, fireworks and labyrinths, the renovation of circuses and variety shows, as well as plays and shows that reached audiences from Broadway to the Burgtheater in Vienna, in India as in China, in South America as in Africa, designer of museums including the Swarovski Crystal World, Meteorit, the direction artistic-cultural of the World Cup in Germany in Munich in 2006, the fantastic Afrika-Afrika circus.
Inside the garden there is also his private villa, which cannot be visited.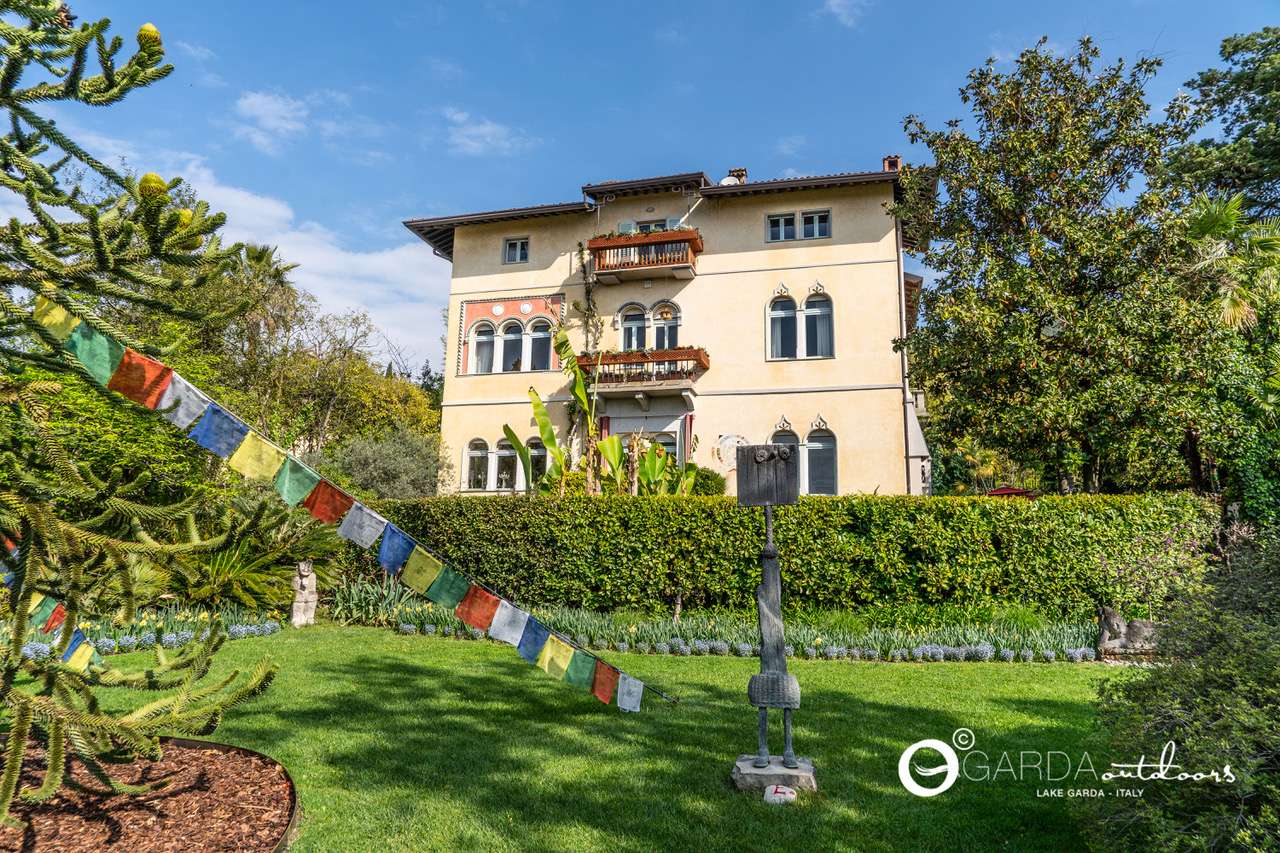 Heller Garden: the garden.
A "sample of regions of the world", this is how Andrè Heller defines his garden.
Over the years, helped by a climate that Heller calls the "air of luck", he has managed to transform it into a heavenly garden where plants from all over the world (about 3000 species) are housed.
The different groups of plants are connected to each other by an intertwining of paths and rest corners.
At the center of the park there is a reproduction in "bonsai" format of a real alpine valley with pines, Nordic trees, cliffs where the water of three waterfalls gushes against the background of which the peaks of the Dolomites are red; a small rocky landscape about 13 meters high, which made the garden famous already at the time of Hruska. All around are ponds covered with water lilies and lotus flowers, inhabited by giant Koi carp and trout.
A garden in which different environments are mixed (from desert cacti to ferns and bamboos from Indochina), united by a wonderful landscape harmony. This is a garden that, thanks to its richness and variety, presents itself in a new guise every year and in every season.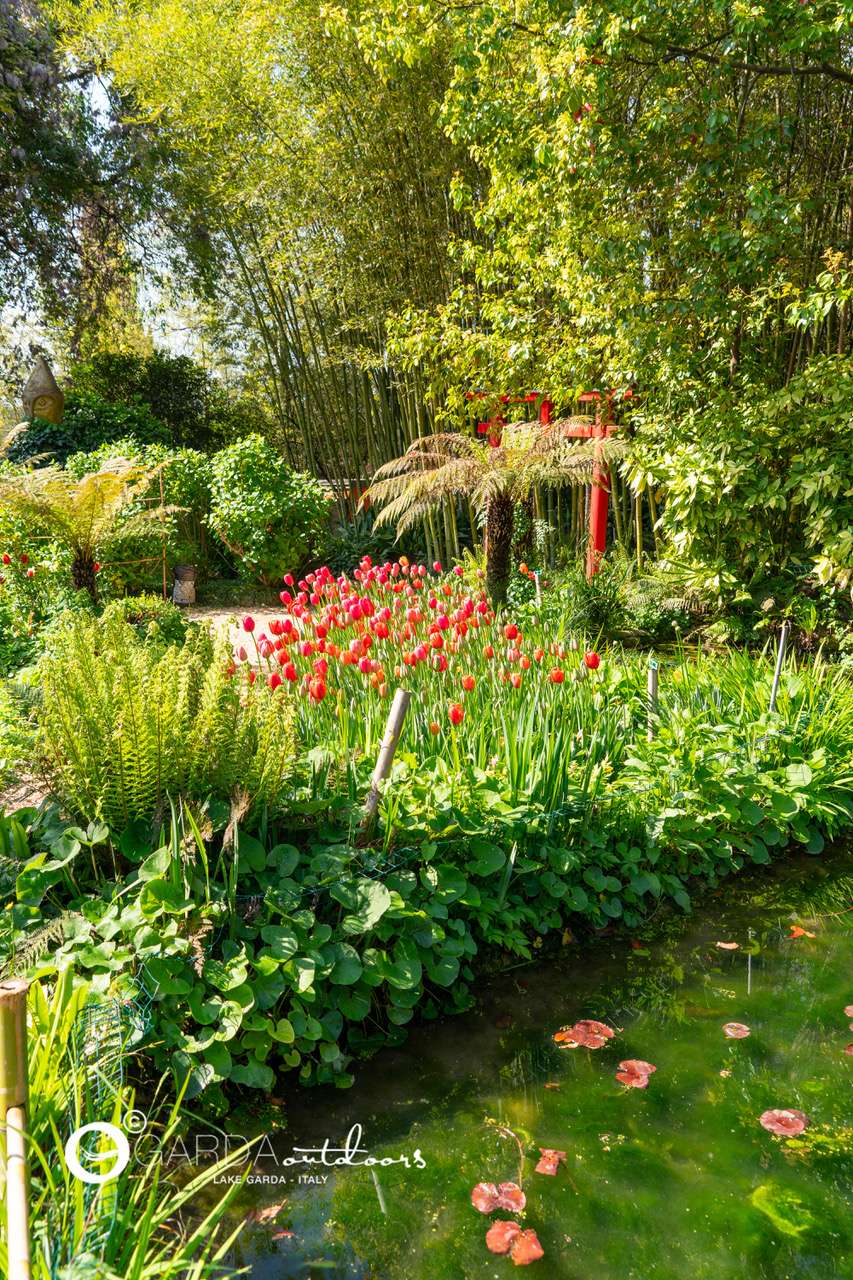 Heller Garden: the works.
The garden houses various works of art, donated or commissioned by Handrè Heller himself.
Already from the entrance gate with its colorful ticket office, you immediately understand that you are not in a common botanical garden.
Many elements lead back to different traditions and spiritualities: Buddhist, Tibetan and Hindu statues coexist with the symbols of metropolitan, modern and contemporary culture.
There are works by Roy Lichtenstein, Keith Haring (who also designed his own interpretation of the garden, which is reproduced in the entrance tickets), Peter Pongratz, Susanne Smoegner, Erwin Novak, Edgar Tezak, Rudolph Hirt and the owner himself.
A journey between art and nature that surprises at every corner and tells the genius of the human being, merged with the surrounding environment.
The great head of the Babylonian god Johannes, a mask created with golden pieces, ceramic, pebbles and plant elements, with its mouth from which steam comes out it looks like a mysterious cave, a passage to the underworld.
The Bridge of Monsters where the representation of intolerance of modern man is represented by two heads hoisted on poles that spit in the face. The Chinese door Torii leads to a sort of purifying and cathartic path, inside which there is the Shishi-Odoshi water game (a sort of water clock that marks the passage of time) and a series of large bamboo canes hanging on a thread that invite you to touch: bumping against each other they emit a sound similar to the xylophone.
Finally, the Genius Loci, created by Andrè Heller, the large anthropomorphic bust with open arms covered with ivy that stands with its large blue eyes as the protector and guiding spirit of the place.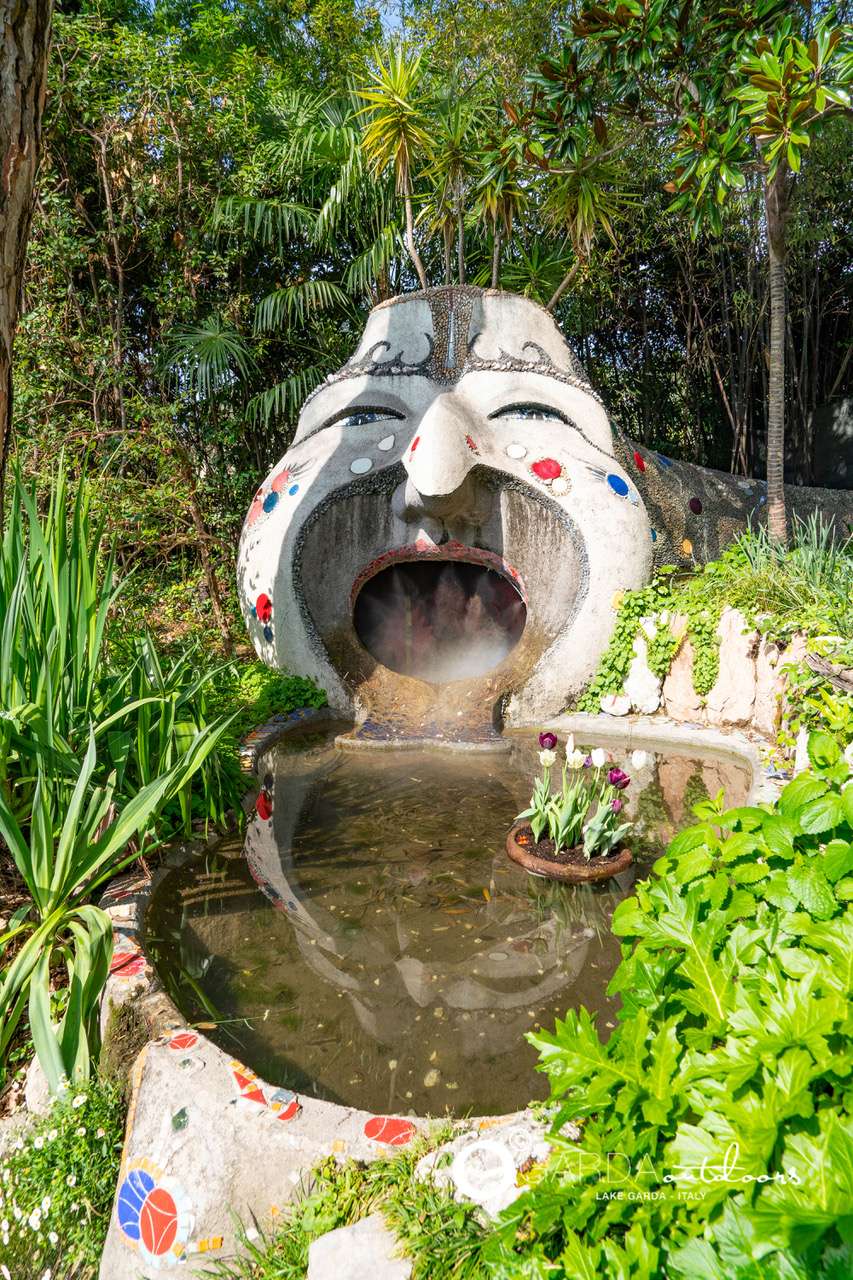 Opening hours – how to get there – various information.
Heller Garden is open: in March and October from 9 to 17 – every day; from April to September from 9 to 19 – every day.
The garden is located in the center of Gardone Riviera (BS) and is well marked by road signs. To the right of the entrance there is a large paid parking lot. From the small port of Gardone, the garden can be reached in a 5-minute walk uphill.
Access is allowed for dogs, education and respect are recommended.
Inside the park there is also a refreshment kiosk where you can also buy souvenirs.
Events and weddings can be organized at Heller Garden.
For any further requests, we refer you to the official website.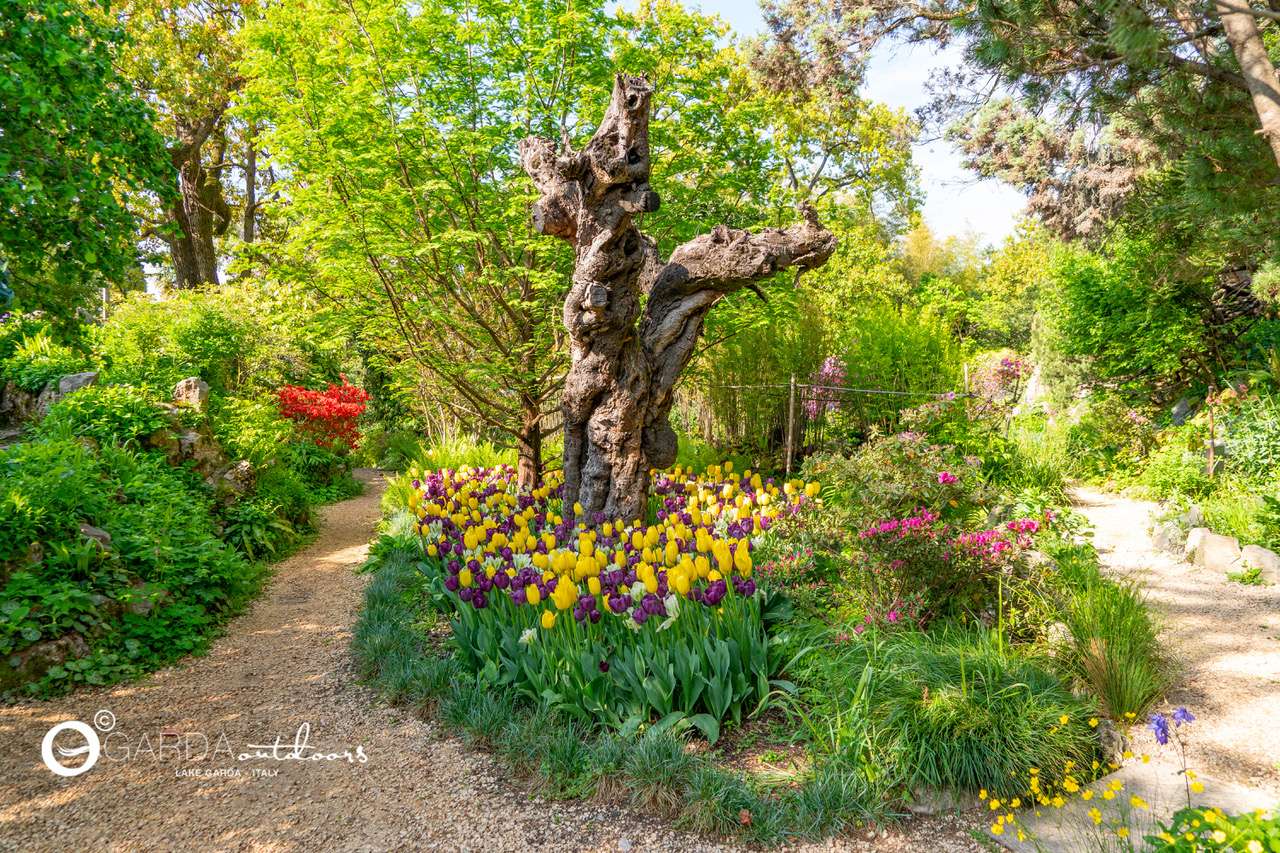 The word "paradise", through the Latin paradisus and the Greek paradeisos, originates from the Persian pairidaez, which means garden. Here is a brief explanation of the beauty of this place!
See you next time dear Outdoors!
Silvia Turazza – Garda Outdoors editorial staff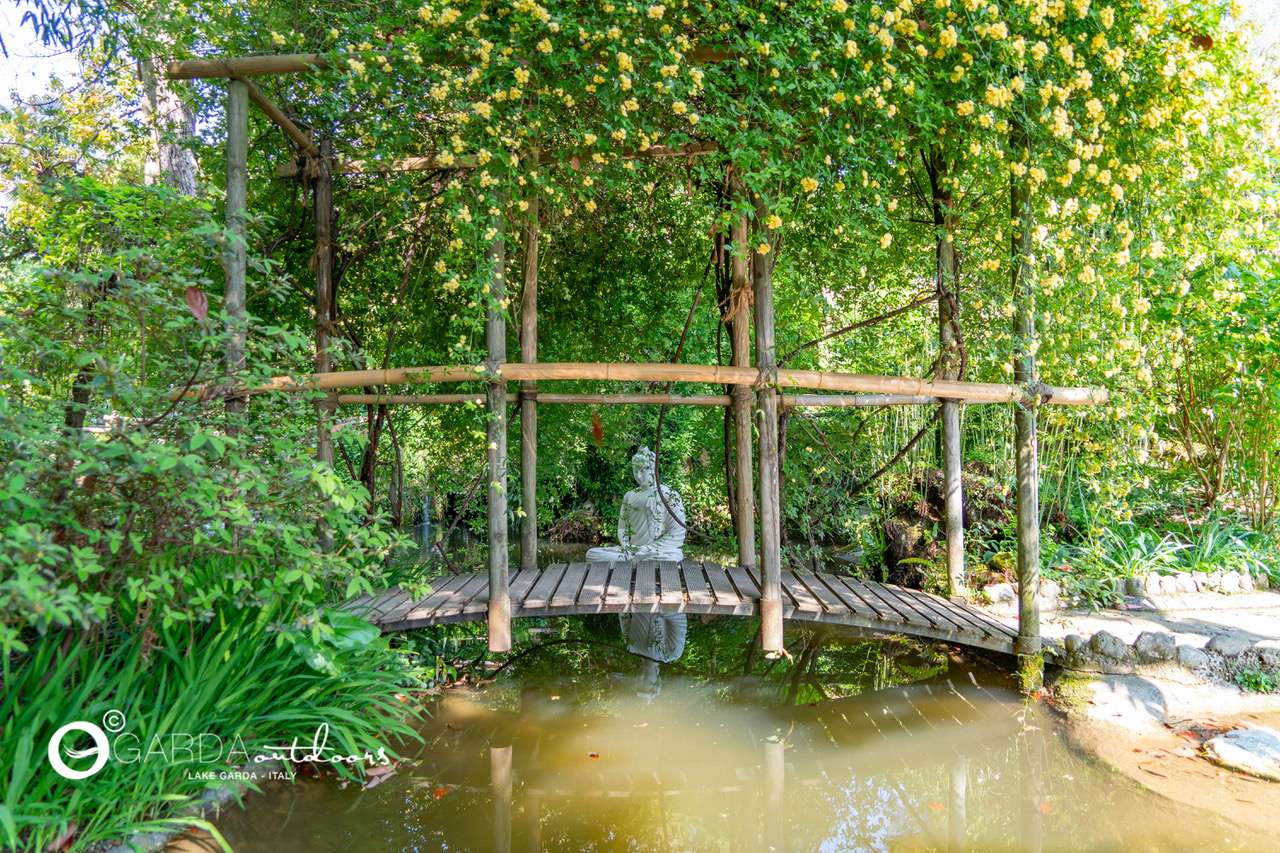 Where to sleep – Where to eat – Experiences on Lake Garda.
On Lake Garda there are many structures in which to stay, from small and well-kept B&B's to resorts with wellness centers and beauty services, in the section dedicated to hotels find all the information you need to find the most suitable accommodation for you.
The same goes for restaurants, at this link you will find our selection of restaurants on Lake Garda. Remembering that Lake Garda offers several starred restaurants and the quality of the culinary offer is very high.
There are many activities and experiences you can do on Lake Garda, so we recommend you visit the section dedicated to experiences in our magazine by clicking here.