The best equipped beaches of Lake Garda.
When the only desire is to dive into the "clear, fresh and sweet waters" of Lake Garda without loading half the house in the car, there is only one thing to do: choose a beautiful beach equipped with every comfort .
In this article you will find our advice on where to go. The tour starts from the Venetian side, passing through the Lombard side and arriving in the Trentino side. There is something for everyone!
LIDO AI PIOPPI (Lungolago Giuseppe Garibaldi, 17 – Peschiera del Garda – VR).
At the end of Lungolago Garibaldi, after the tourist port "Bruno Manfredi", you will find this equipped beach that will allow you to choose sunbed with umbrella on a grassy, ​​stony or sandy beach . You will also find toilet facilities, showers, a kiosk / bar and pedal boat rental.
(For info: 345 343 7297 ).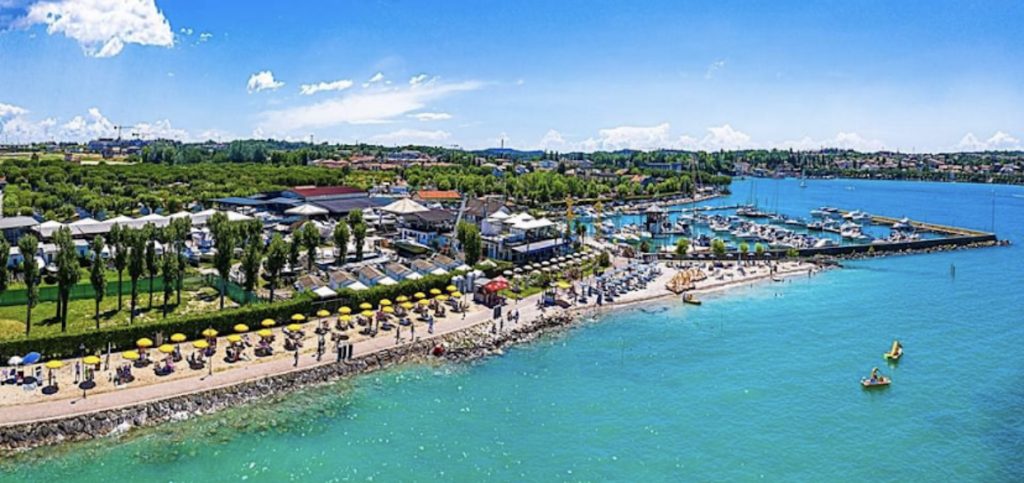 LA BOSCA GIULIETTA BEACH (Str. Della Ponta – Lazise – VR)
Deck chairs and umbrellas for hire with bar and roof top service for parties and events. Open every day from 9:00 to midnight.
(For info: https://www.labosca.it/il-lago-la-bosca-lazise-verona/).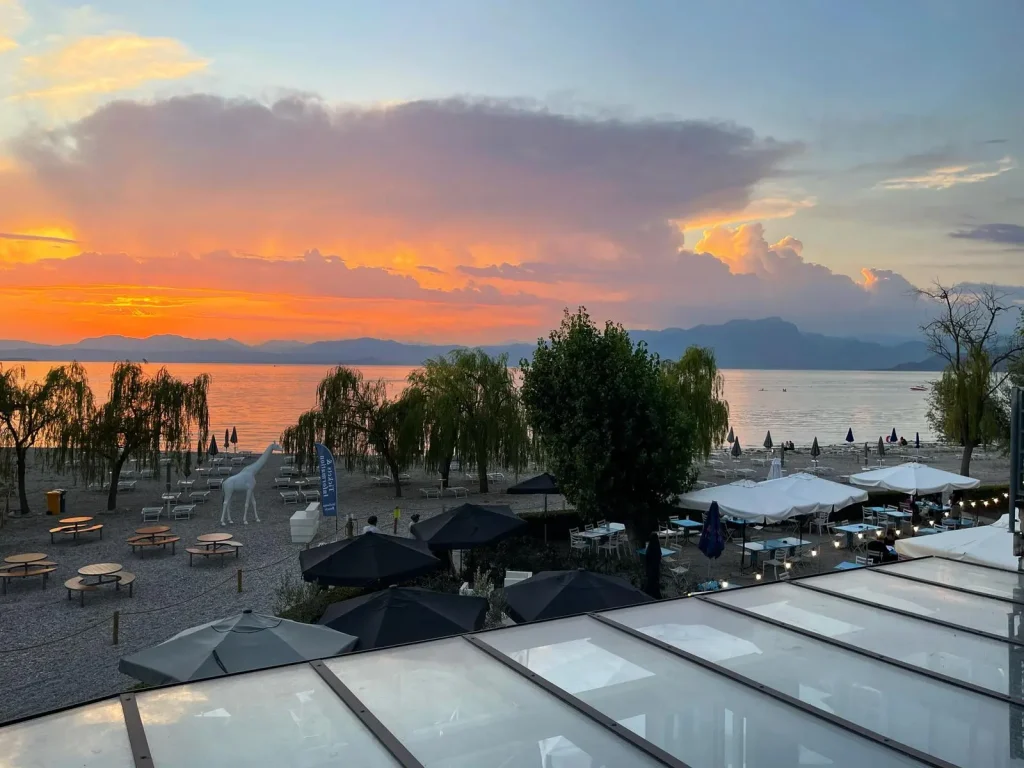 IL CISANINO (Via Peschiera 29 – Cisano di Bardolino – VR).
Bar and grill open until midnight with sun lounger and umbrella rental on the sandy beach.
(For info: https://www.facebook.com/cisaninogardalake/ ).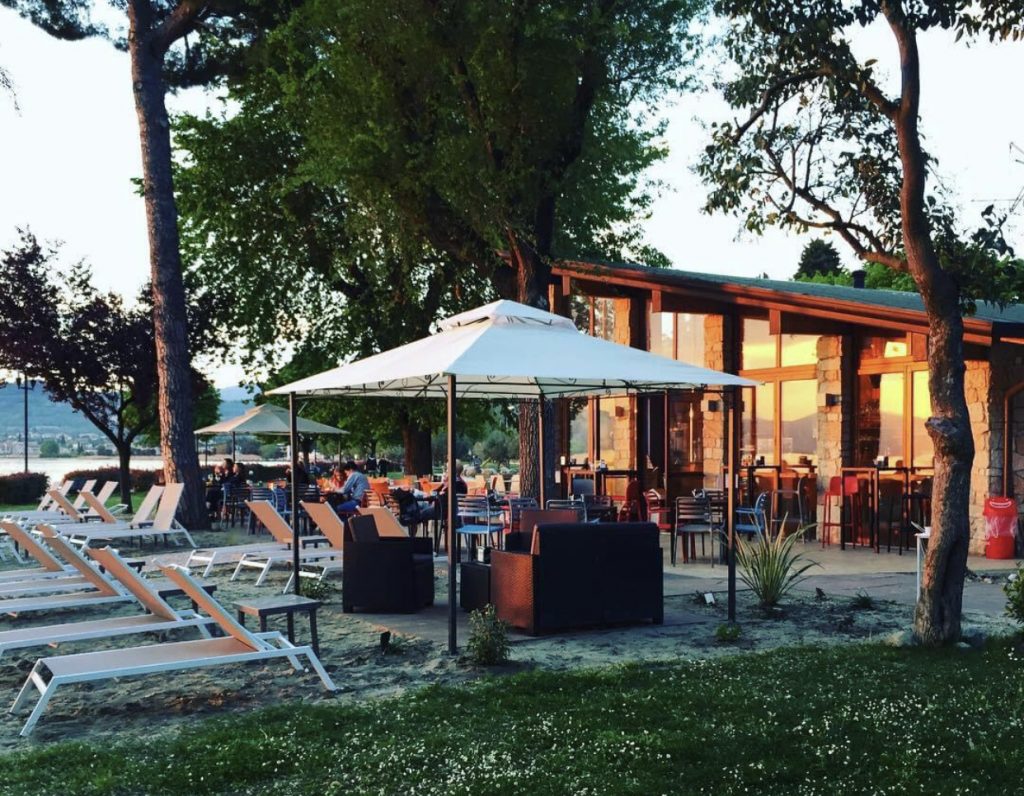 NUOVO LIDO CISANO (Via Peschiera, 2 / A – Cisano di Bardolino – VR).
In this kiosk bar it is possible to rent sunbeds and umbrellas to be placed in a well-kept lawn . In addition to the bar / restaurant service, there are also showers and changing rooms. This beach is also a meeting point for motorcyclists .
(For info: +39 351 694 3583).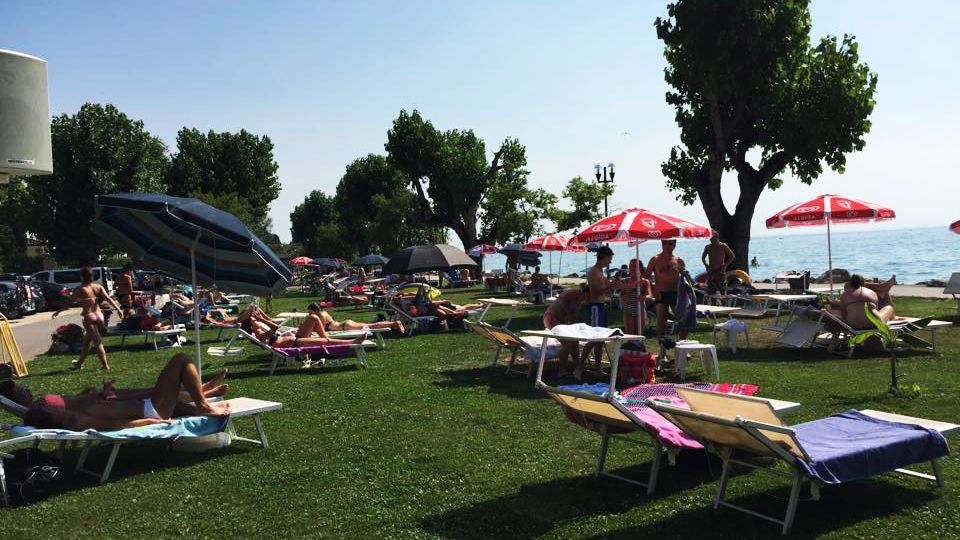 LIDO GARDA – BEACH CAFE '(Lungolago Pincherle 1 – Garda – VR).
Historic restaurant on the Garda lakefront. You will find sun lounger rental and bar service until 3:00 am with live music and DJ sets
(For info: https://www.facebook.com/lidodigarda/ ).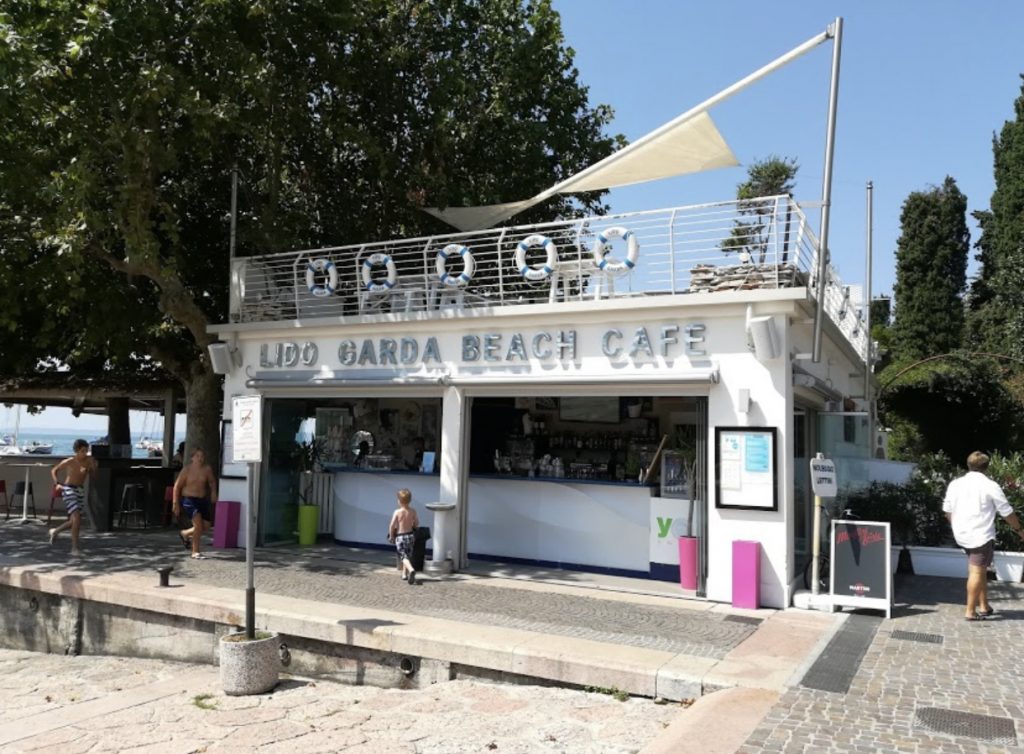 LA MOTTA NEW (Along Lake Europa, Promenade Rivalunga 12 – Garda – VR).
This bar-restaurant with sun beds and umbrellas is located a few meters from the center of Garda along the pedestrian promenade that connects Garda to Bardolino. Location beautiful and easy to reach. Large paid parking available a few meters away.
(For info: https://la-motta-new.business.site/ ? utm_source = gmb & amp; utm_medium = referral )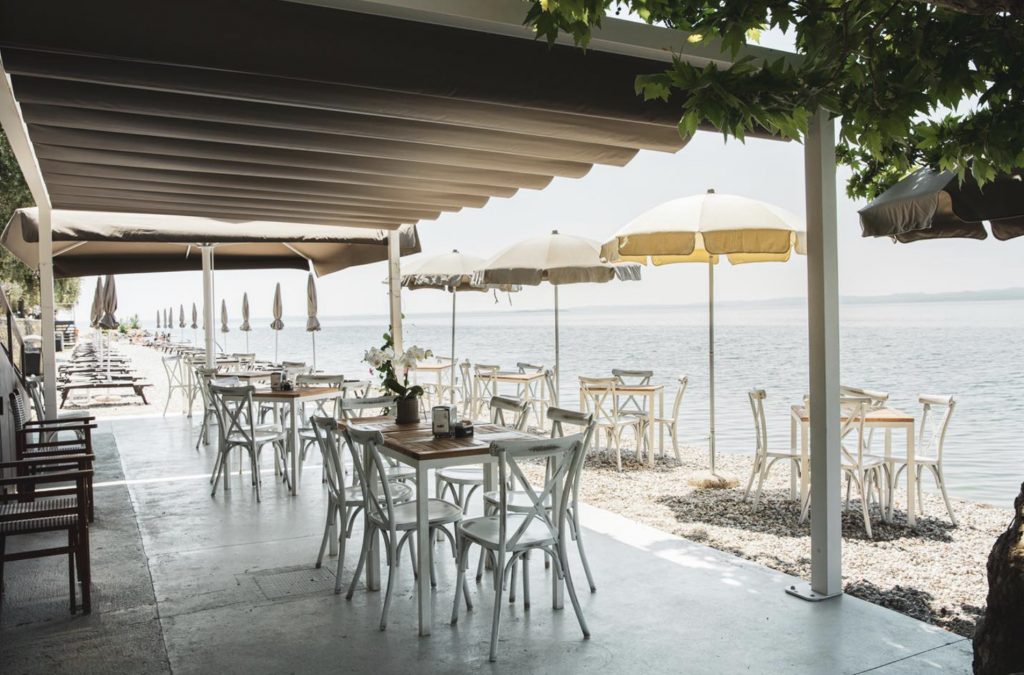 SAN VIGILIO PARK (Punta San Vigilio – Garda – VR).
The San Vigilio Park, with swimming pool and access to the lake , extends for 20,000 square meters directly overlooking the shores of Lake Garda, between the Gulf of Garda and the peninsula of Punta San Vigilio . Nature dominates the landscape, 35 centuries-old cypresses and 500 olive trees surround a 200 m2 swimming pool. Free parking guarded subject to availability. Bar , relaxation area and wi-fi . Really lovely place!
(For info: http://parcosanvigilio.com/ )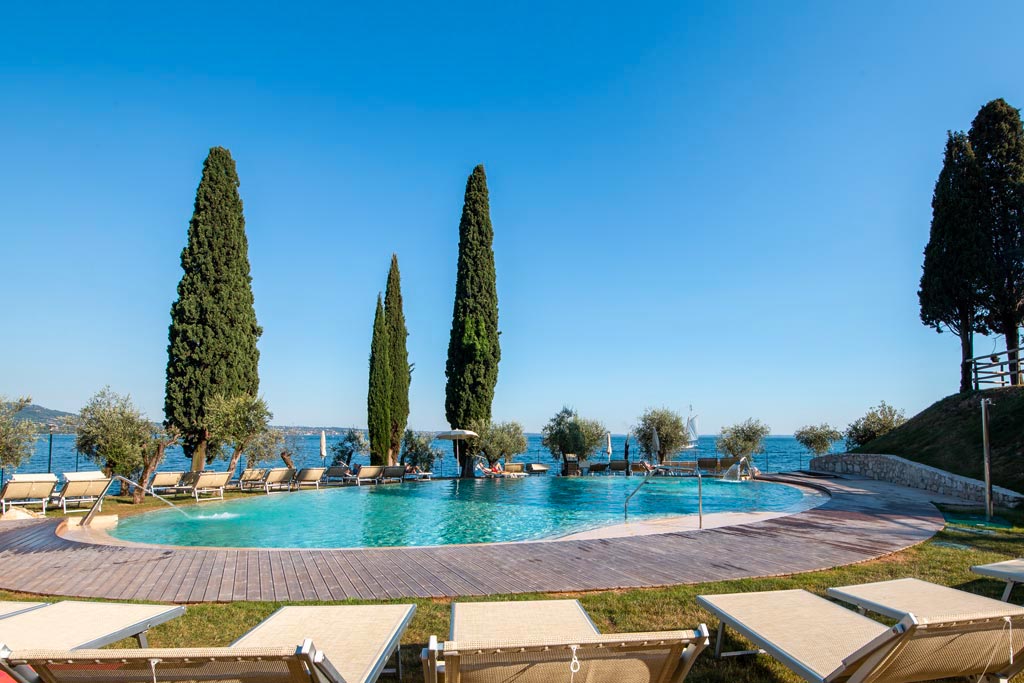 CALA DELLE SIRENE PARK (Punta San Vigilio – Garda – VR) .
You will find this equipped beach in the wonderful park of Punta San Viglio (Garda – VR), in one of the most spectacular natural inlets of the entire Garda basin.
Cala delle Sirene offers 250 sunbeds with parasols equipped with beach towels and sheltered by large umbrellas. For those who want privacy and high comfort, it is possible to reserve one of the 4 comfortable cabanas, in which to relax, receiving a pleasant welcome gift of water and fresh fruit.
And for our four-legged friends there is a dedicated area, designed for their needs. Free parking subject to availability, beach bar and garden bar, changing rooms and showers. Unique atmosphere!
(For info: https://www.rivierasanvigilio.com/location/cala-delle-sirene/)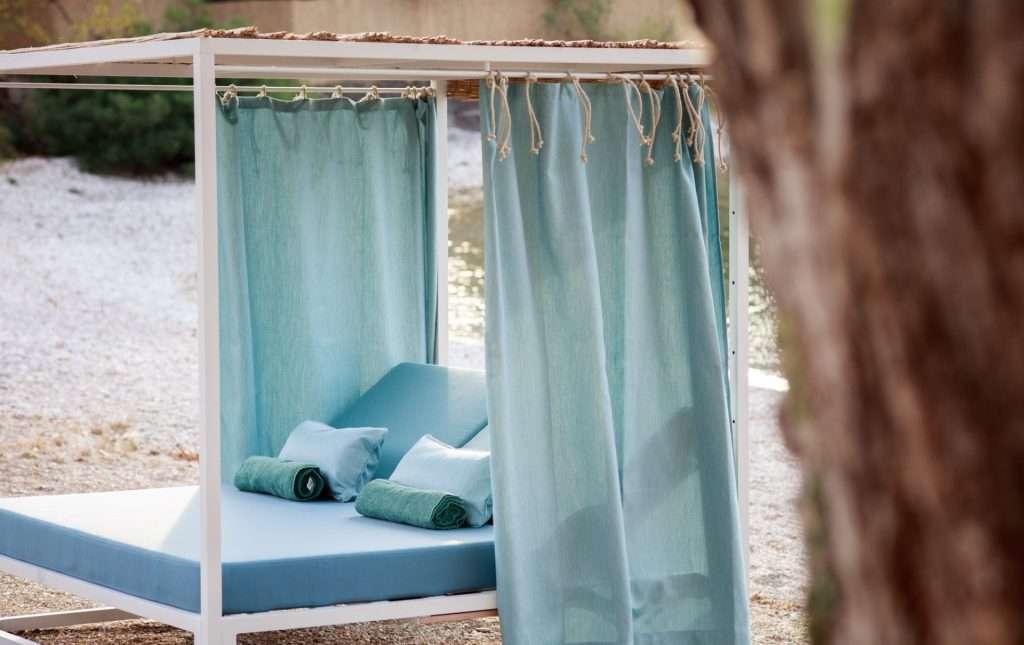 PARCO BAIA DELLE SIRENE (Via S. Vigilio, 17 – Garda – VR).
Cots for hire that can be booked online, with bar service and private parking. A corner of paradise!
(Per info: https://www.baiadellesirene.com/index.php).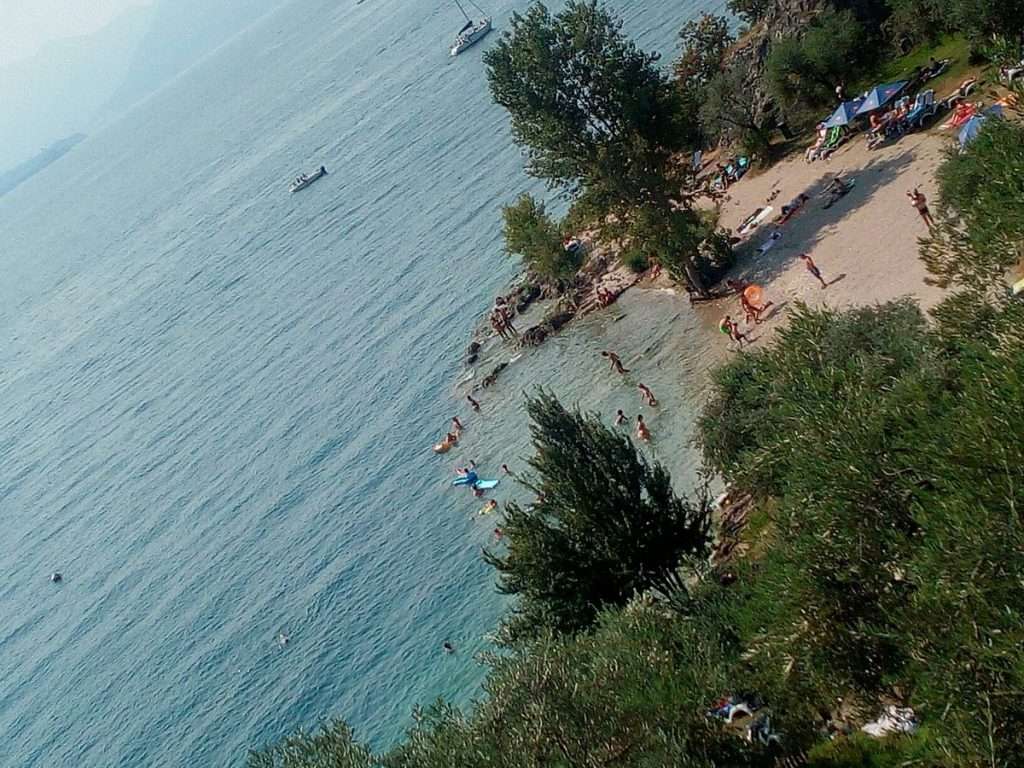 SUNSET BEACH (Viale Guglielmo Marconi 6 – Torri del Benaco – VR).
This beautiful sandy beach is located near the Torri del Benaco pier, equipped with umbrellas and sunbeds. The kiosk bar for lunches and musical aperitifs at sunset is not to be missed.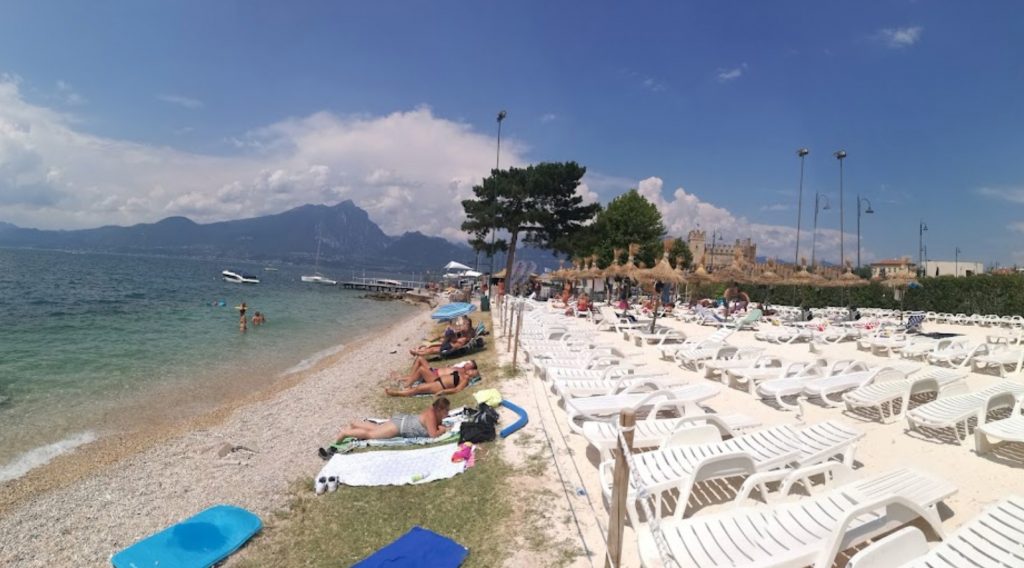 BAIA STANCA BEACH BAR (Via Gardesana, 196 – Torri del Benaco – VR).
At the end of the town of Torri del Benaco, in a bay that opens your eyes to a beautiful landscape, is this beach with sun lounger / umbrella rental service and beach bar.
Being so close to the town, staying here allows you to comfortably take a stroll through the streets of the center of Torri del Benaco for a little shopping and to visit this wonderful town, without move the car.
(For info: phone +39.348.592.5782 – open from 8:30 to 20:00).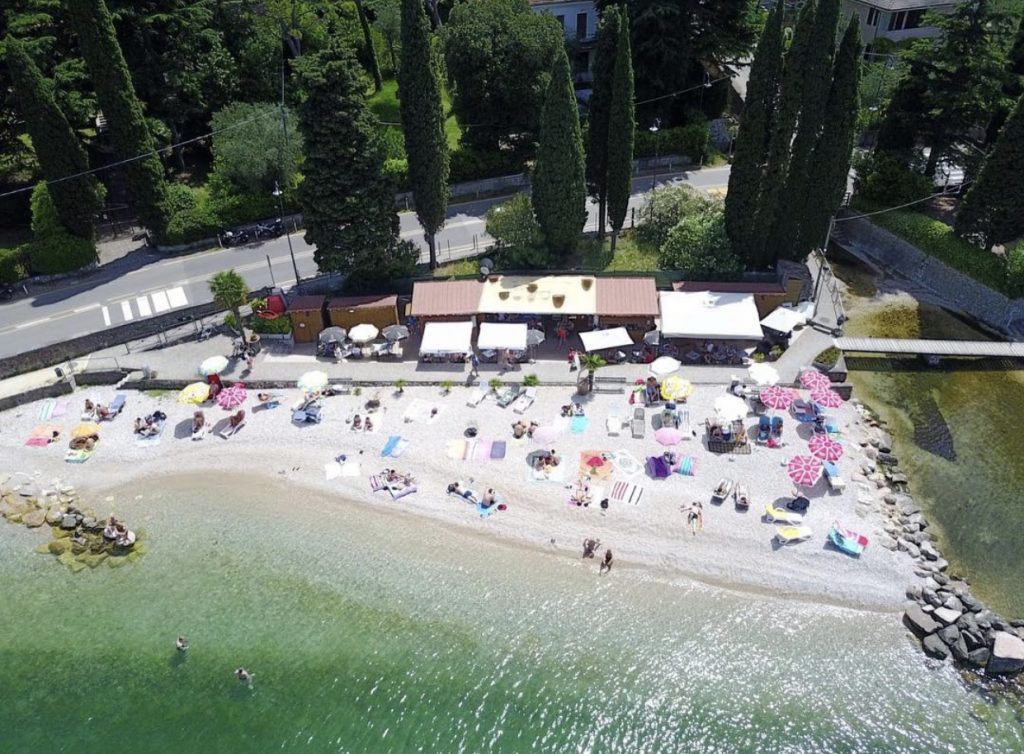 RESTAURANT PIZZERIA LIDO SOPRI (Via Lungolago 18 Loc. Sopri – Malcesine – VR) .
Here you will find non-stop cooking and pizza with rental of sun loungers and umbrellas on a beautiful lawn. The beach is located on the lakefront between Val di Sogno and Malcesine, with a splendid view over the entire gulf, the Scaligero Castle and the Isola dell'Olivo.
(For info: https://lidosoprimalcenise.myadj.it/v/lidosoprimalcenise ).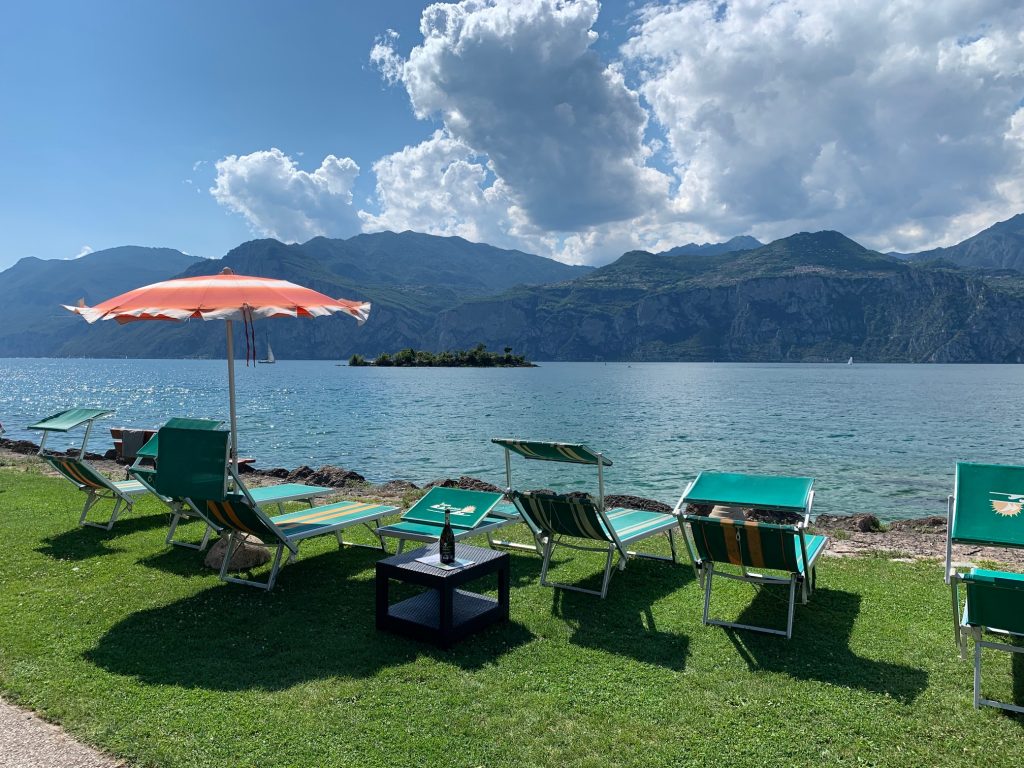 LIDO PAINA Restaurant Pizzeria (Loc. Paina, 49 – Malcesine – VR).
This pizza restaurant has a small beach with sunbeds, cabins and lifeguard service . All with a splendid view of the Scaligero Castle of Malcesine !
(For info: http://www.lidopaina.it/#lido ).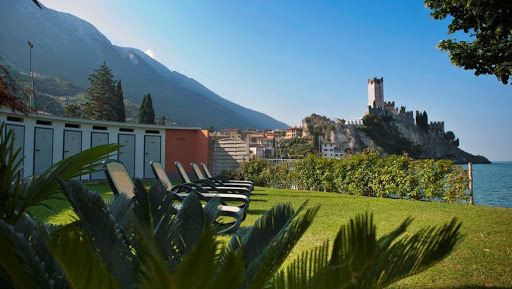 PORT OF TIGNALE (Tignale – BS).
A beautiful equipped beach (here there is also the free one, part of which is dedicated to our four-legged friends).
At the beach there is a bar with small catering, a boat rental and a water sports school with related equipment rental.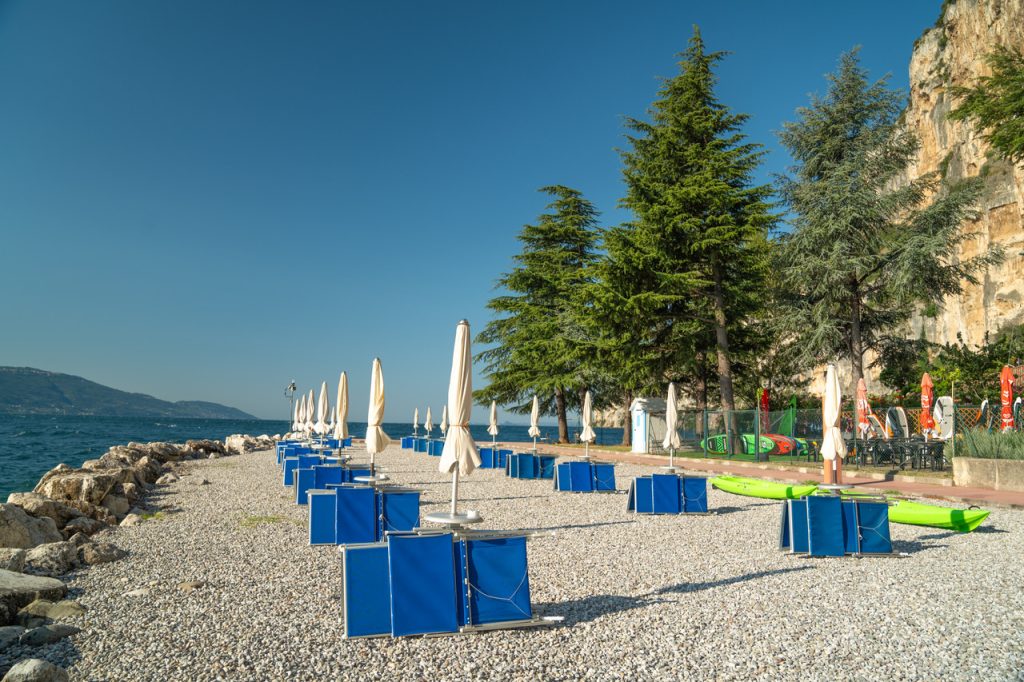 LIDO DEI LIMONI (Via della Libertà, 51 – Villa di Gargnano – BS) .
Beautiful beach located in the hamlet of Villa in Gargnano (BS), equipped with deck chairs, sun beds and umbrellas.
At the beach it is also possible to rent: mountain bikes, kayaks, pedal boats and SUP.
There is also the "Lakefront Beach Bar "where you can enjoy excellent dishes with the Light Restaurant service and at sunset enjoy a fantastic aperitif in a truly suggestive and romantic place!
(For info: phone +39.339.207.2449 – open from 8:30 to 20:00).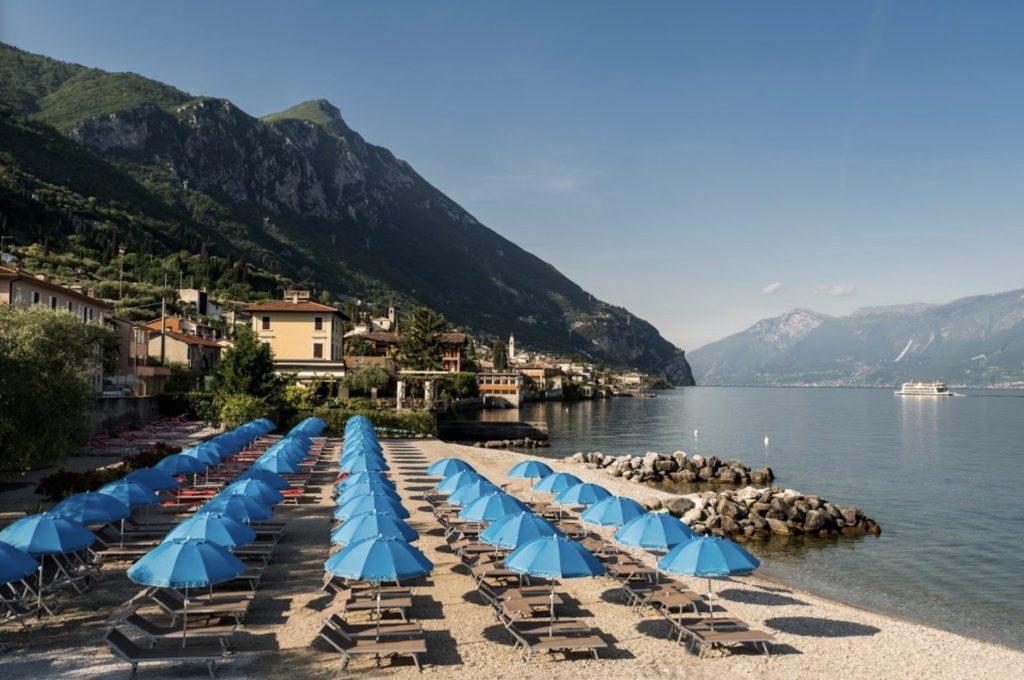 LIDO AZZURRO (Via Lungolago Giuseppe Zanardelli, 44 – Toscolano Maderno – BS).
A peculiarity of this beach is the presence of sand, mixed with gravel in some places. Here a nice castle with a bucket I would try to do it!
Here too you will find sunbeds and umbrellas. Cabins, toilets and showers are available. There is also a kiosk, bar and restaurant.
There is a paid parking nearby, as well as the possibility to rent sailboats, tandems and rickshaws. There are also tennis courts and beach volleyball courts.
(For info: phone +39.0365.643.727 – open from 08:00 to 00:00).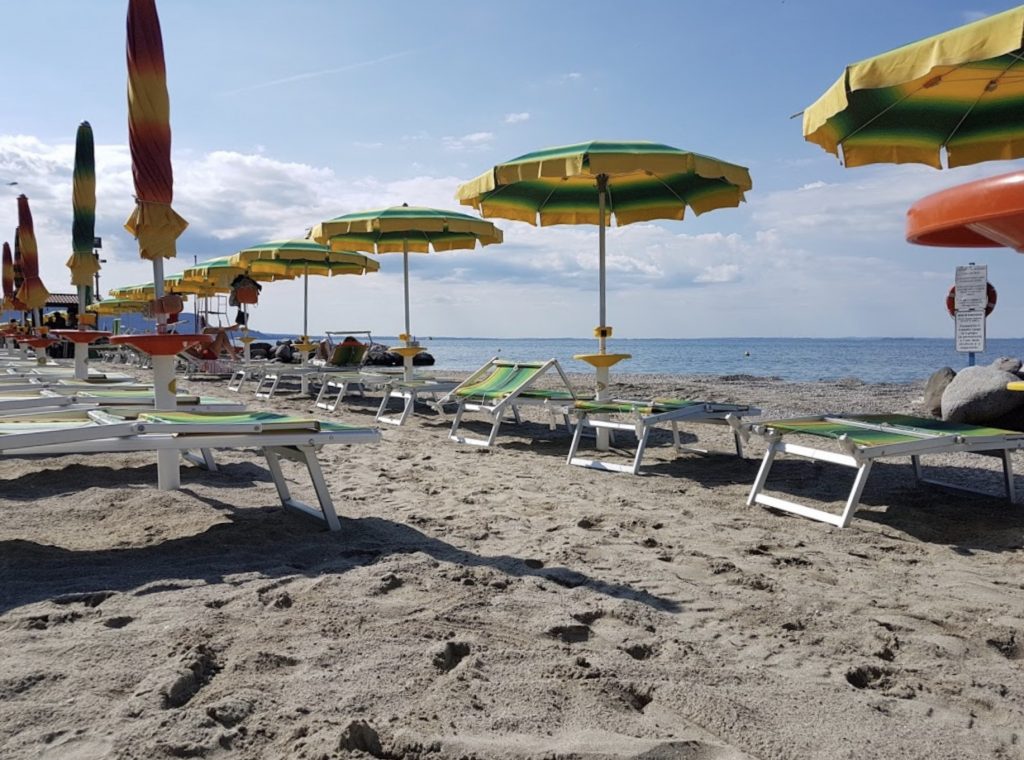 RIMBALZELLO VILLAGE (Via Trento, 28 – Barbarano di Salò – BS).
In this beach you will find everything: white sand, lawn, beach for swimming in the lake and swimming pool for those who prefer it. You can rent umbrellas and sunbeds, as well as eat in the bistro. Inside there are also 3 tennis courts, 5 five-a-side football fields and a diving center.
(For info: https://rimbalzellovillage.it/lido )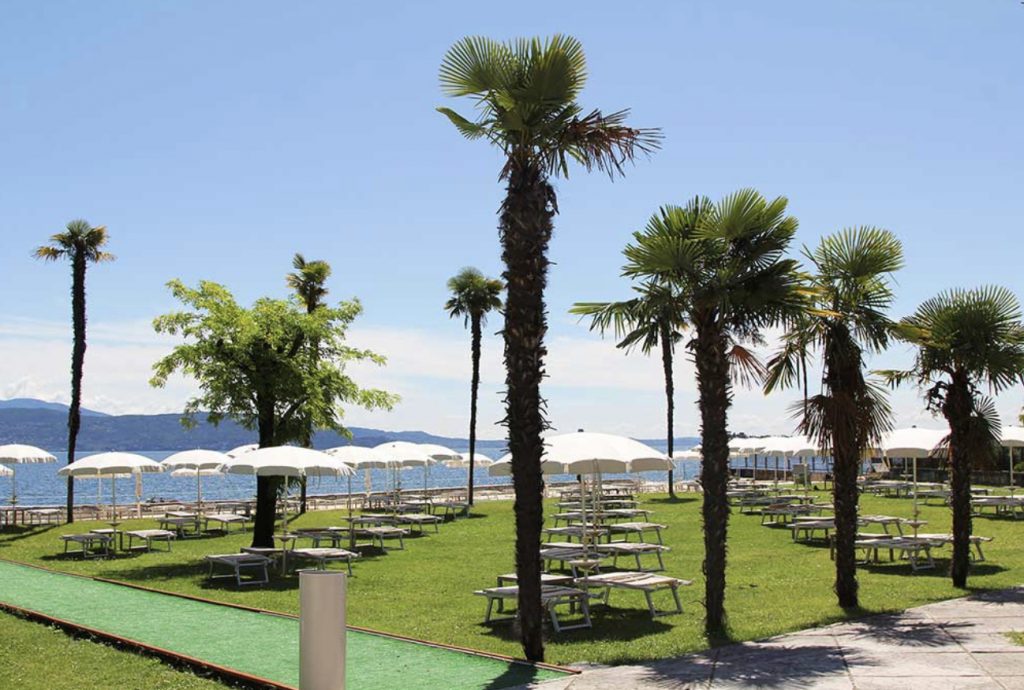 MOKAI BEACH (Via Tavine – Salò – BS).
Al chiosco bar Mokai Beach potrete noleggiare lettini e ombrelloni, trovando tutti i comfort (docce, cabine e servizi igienici). Inoltre qui si servono anche degli ottimi aperitivi e le serate proseguono fino a notte fonda con eventi e serate a tema.
(Per info: +393493622837 – https://m.facebook.com/mokaibeachbar/).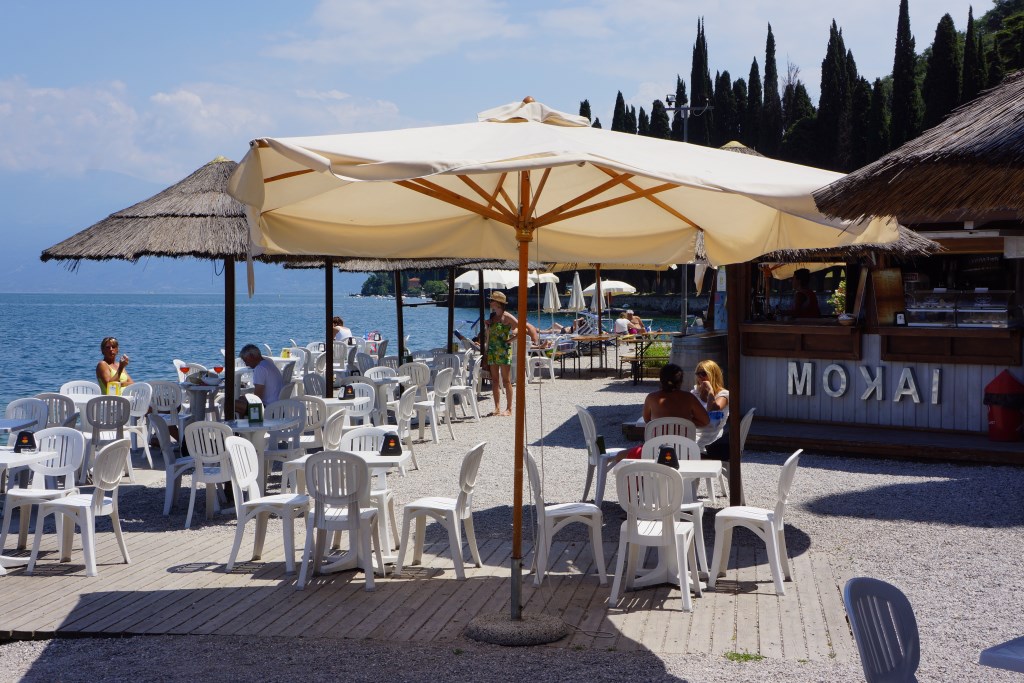 BAIA DEL VENTO (Via Baia del Vento, 23 – San Felice del Benaco – BS).
The Baia del Vento beach is modern and well equipped. In fact, you can rent sunbeds, deck chairs, umbrellas, single and double canoes, normal pedal boats or with a slide, Sup boards . Reservations are not possible.
Frequented mainly by young people and surfers, the beach is a small bay enclosed between Punta del Corno on the left and Punta di San Fermo on the right.
There is also a restaurant where you can taste Garda specialties such as dishes based on lake fish at a moderate price, instead for those who want a quick snack or just enjoy an aperitif on the beach there is a kiosk bar . The beach is mainly made of pebbles even if there are sandy areas both on the coast and in the water.
Parking is paid a few steps from the beach.
The seabed is low and sandy and in the summer months in this stretch of the lake moor numerous boats.
On both sides of the beach the Punta del Corno and the Punta di San Fermo are two interesting destinations anti for snorkeling and fishing .
(For info: http://m.baiadelvento.eu/ ).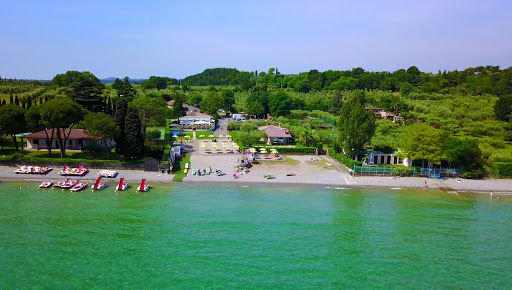 DESENZANINO BEACH (Lungolago Cesare Battisti, 1 – Desenzano del Garda – BS) .
This is among the best beaches in the area. It is equipped with sun loungers, deck chairs and umbrellas for hire.
There is also an ice cream bar sandwich shop and the pizza restaurant of the same name. There is a lifeguard assistance with lifeguards from May to September.
It is possible to book sunbeds and umbrellas in advance by choosing the seat you prefer . There is also the Wi-Fi service.
(For info: http://www.desenzanino.eu/it/ita/centro-balneare/ ).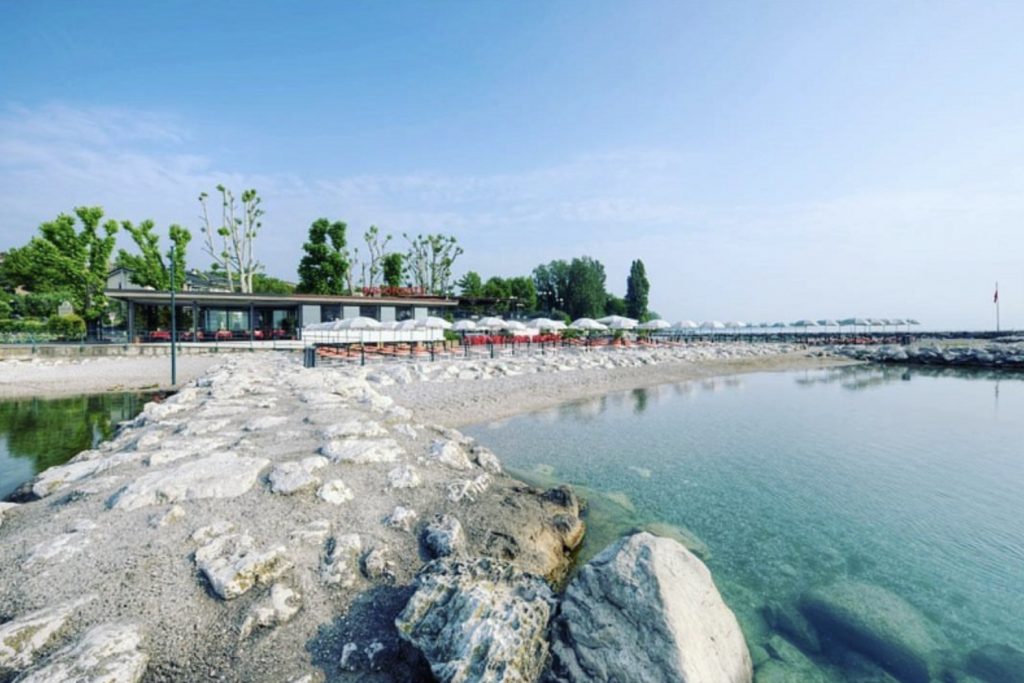 COCO BEACH CLUB (Via Catullo 5 – Lonato – BS).
The home of young people and parties.
This beach of white sand and palm trees , equipped with sun loungers and parasols, is great for sunbathing during the day and turns into an open-air disco in the evening with restaurant and lounge bar, which hosts DJ sets, aperitifs and beach parties .
(For info: https://www.cocobeachclub.com/beach.asp ).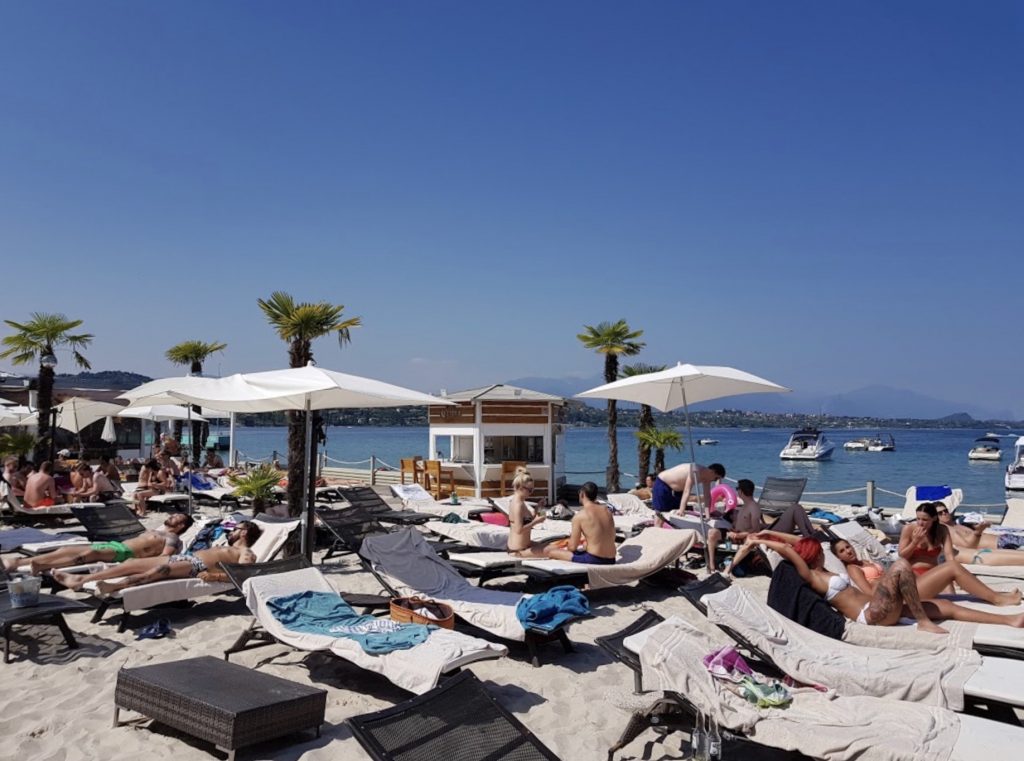 LIDO DELLE BIONDE (Viale Gennari, 28 – Sirmione – BS).
This equipped beach is located in a suggestive cove between the Park of Villa Cortine and the remains of the Roman Villa, home of Catullus, known as the "Grotte di Catullo".
You can reach it on foot by parking at the entrance of the town of Sirmione, among the various paid parking lots.
Available toilets, changing rooms, rental of sun loungers and umbrellas (bookable), canoes (single and double), pedal boats with and without slide and Sup. tables. There is also a restaurant / pizzeria and a bar with take-away service.
(For info: http://lidodellebionde.it/ ).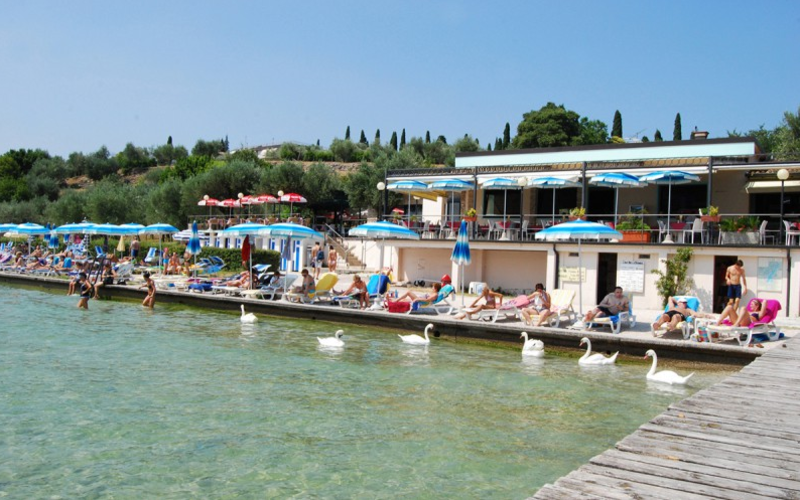 JAMAICA BEACH (Sirmione – BS).
Located at the north end of the Sirmione peninsula and surrounded by unspoiled nature among olive groves and Mediterranean plants, this beach is unique in its kind . It is in fact characterized by slabs of smooth rock among the crystalline waters .
It can be reached on foot from the center of Sirmione (you can park in the numerous paid parking lots) following the signs. Once you arrive you will find a kiosk bar where you can rent sunbeds in the shade of the olive trees and be able to refresh yourself. However, the beach is also free for those who do not want paid services. We suggest you arrive early in the morning as it is one of the most famous and visited beaches on Lake Garda.
Don't miss a sunset from there, it will be very exciting!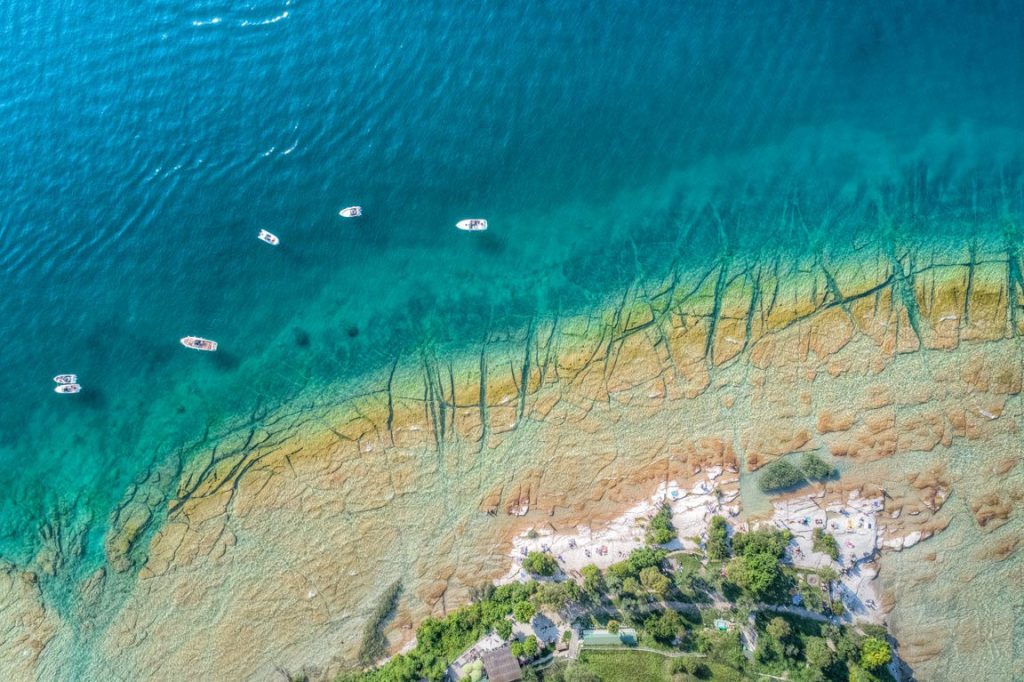 PLAYA GARDA – TORBOLE (Via Passeggiata Dell'Ora – Torbole sul Garda – TN).
This beach is located in the Bar alla Sega area in front of the former Colonia Pavese. A stretch of about 200 meters on which it is possible to rent sunbeds and umbrellas. It is mandatory to stop at the bar of the same name to eat or drink something with a splendid lake view !
(For info: 392.64.58.562).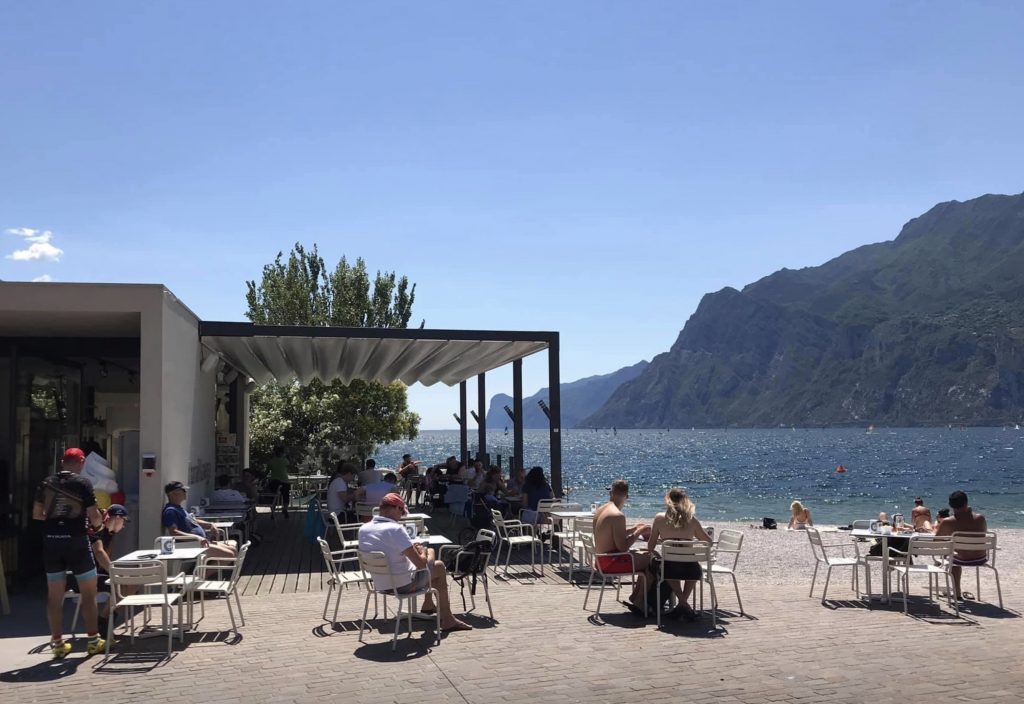 SABBIONI BEACH (Riva del Garda – TN) .
With pebbles and grass areas, this beach is one of the largest and best equipped.
It offers various services such as rental of deck chairs and sun loungers, refreshment points, showers and canoe rental. It has floating platform with indoor swimming pool, basketball court , beach volleyballand playground with trampolines; and sandbox for the enjoyment of the whole family.
It is very shady thanks to the presence of the park adjacent to the beach.
In summer offers a range of free services for people with disabilities : wheelchairs suitable for gravel ground to allow entry into the water, raised sun loungers, shower with movable shower head.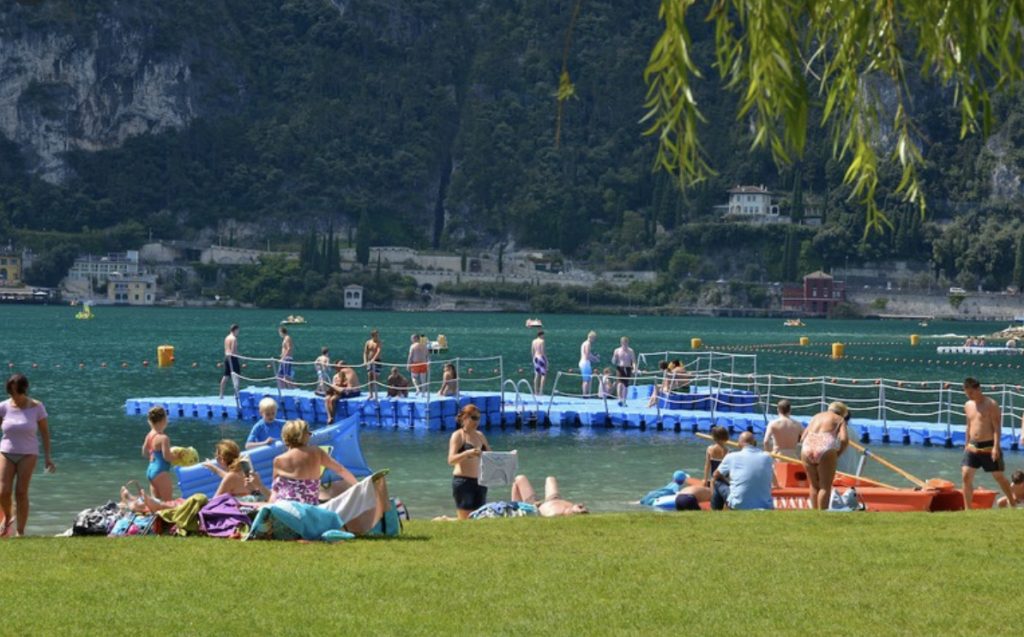 The Garda Outdoors Team warmly thanks all the Gardesans who, thanks to the care and love for the territory, carefully guarantee always clear and clean waters .

The mild climate of Lake Garda favors an optimal water temperature guaranteeing bathing from May to September (but even here the well-wishing New Year's dive is not to be missed eh!).
Come on, roll up your swimsuit and towel, Lake Garda is waiting for you!
PS: before traveling, we strongly recommend that you call and check the availability of the chosen location.
See you next time dear Outdoors!
Silvia Turazza – Garda Outdoors Editorial Staff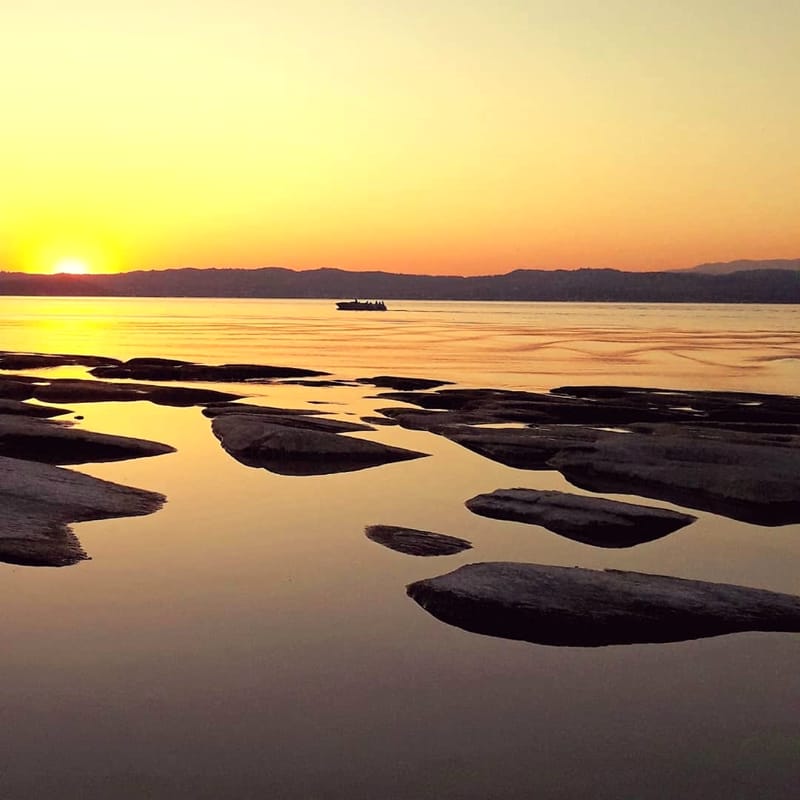 Hotels – Restaurants – Experiences on Lake Garda.
On Lake Garda there are many structures in which to stay, from small and well-kept B&B's to resorts with wellness centers and beauty services, in the section dedicated to hotels find all the information you need to find the most suitable accommodation for you.
The same goes for restaurants, at this link you will find our selection of restaurants on Lake Garda. Remembering that Lake Garda offers several starred restaurants and the quality of the culinary offer is very high.
There are many activities and experiences you can do on Lake Garda, so we recommend you visit the section dedicated to experiences in our magazine by clicking here.
For any questions about your holiday on Lake Garda, do not hesitate to contact us by commenting on this article or by writing on our social channels (Instagram, Facebook, Twitter , TikTok), we are always available to help you.