Do you want an easy and short trekking walk that will immerse you in the absolute beauty of the forest in a few moments? The Aer waterfall is the magic of water for you!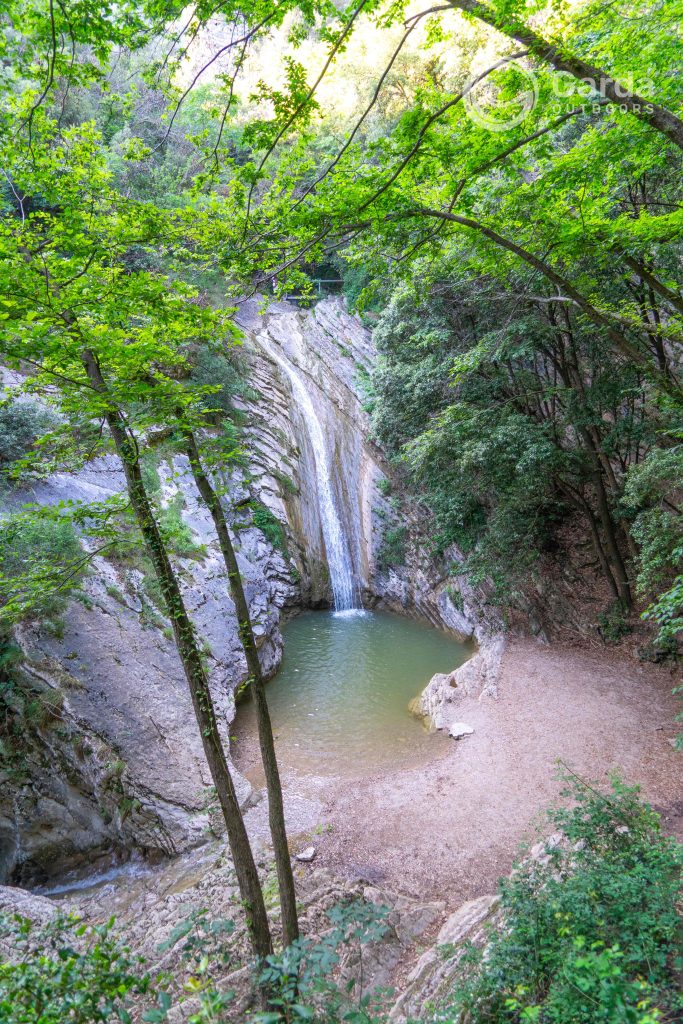 How to get to the Aer waterfall.
The fastest path to lead you to observe this small spectacle of nature is trail number 265 which starts from the hamlet of Piovere (Tignale – BS).
Park comfortably in one of the free parking lots with a white stripe along the uphill road. The largest are the one in piazzale Chiara D'Assisi and the one higher up next to the sports field. From there, climbing a little further up, on the right, is the appropriately signposted starting point of the path.
The road climbs imperceptibly inside the woods, only the last stretch is downhill, between steps and rocks, to reach the waterfall in about 25 – 30 minutes (one way), depending on the pace. You will first observe it from above, crossing a small wooden bridge, admiring the rocks shaped by the water. Then the last meters downhill to see it between white foam and spray that fills the air with a pleasant humid breeze. In its clear and fresh water you can refresh yourself, as well as take a wonderful photo!
The path is also suitable for children, but it is not suitable for pushchairs.
Then you can return by the same path, otherwise you can continue until you reach the hamlet of Aer, with its beautiful little church of Saints Bernardo and Valentino and the ancient stone mill for grinding olives, which can be visited freely.
Tip for photographers: if you want to photograph it with the sun's rays entering, you have to go in the central hours of the day, when the sun is around the Zenit.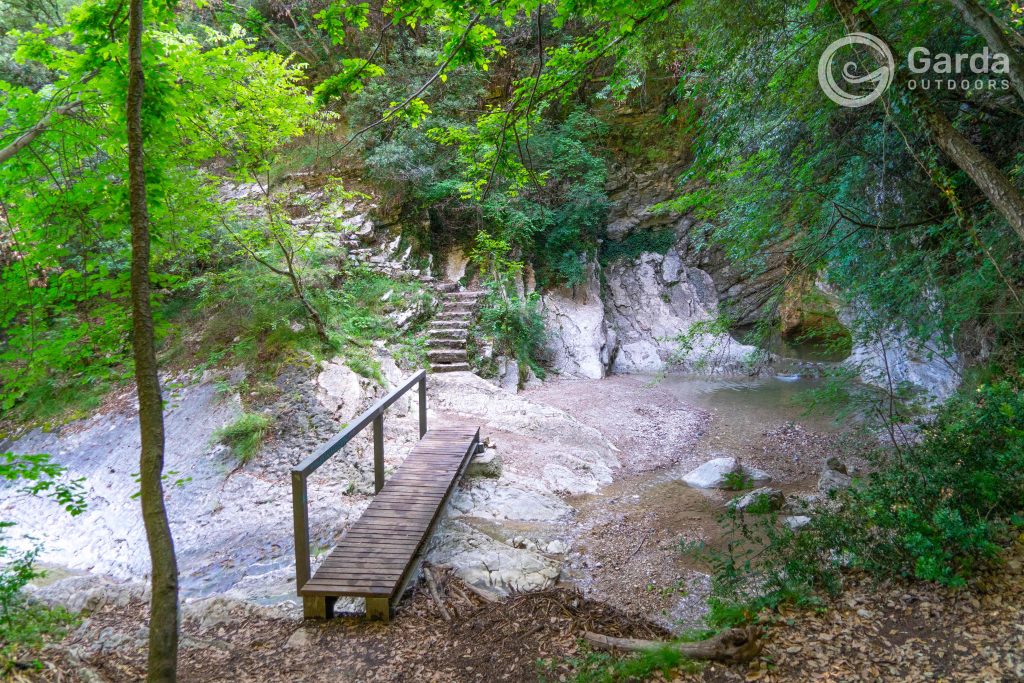 Activities: canyoning at the Aer waterfall.
An alternative way to see this jewel and the beautiful canyon that it digs in the middle of the forest is to go canyoning. An increasingly popular sport, increasingly practiced and often considered as a real adventure to be experienced in the company of friends and family, also to create moments of togetherness and alternative occasions for celebration; to test yourself in situations and exercises that you don't try every day, to have fun in a healthy way and get away from stress and thoughts.
Do you want to try it? You can contact the Canyon Addicted super team!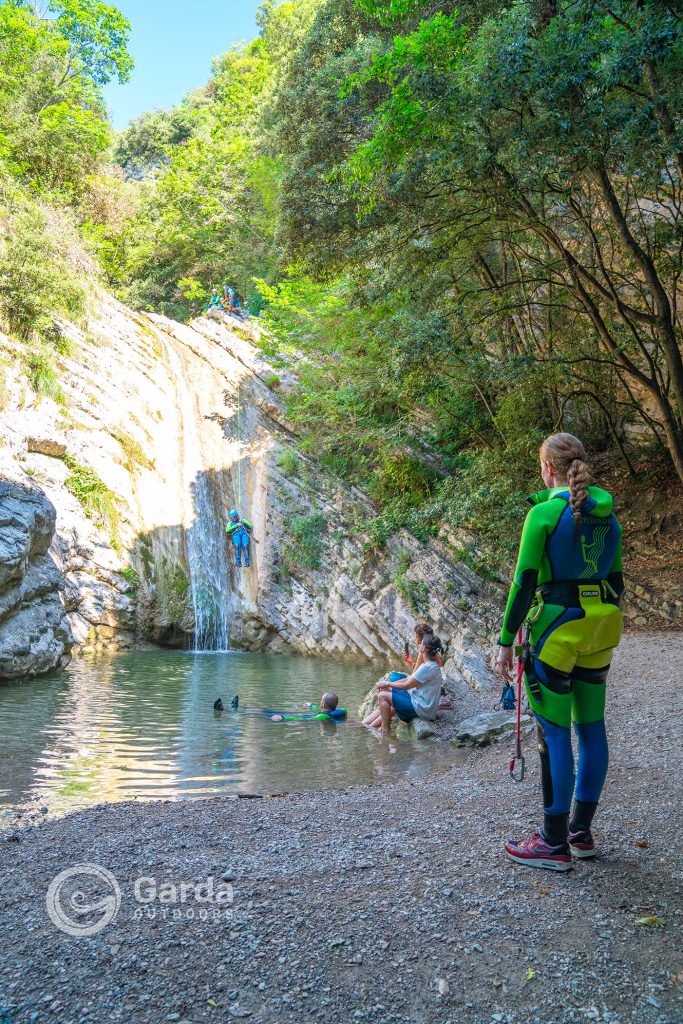 What to see around the Aer waterfall.
Tignale is made up of 6 picturesque villages, then we find the Prà dela Fam lemon house, the port with the beach and the Sanctuary of Montecastello overlooking the blue. An ancient gastronomic tradition and many other trekking and biking excursions await you.
Find all the info by clicking here.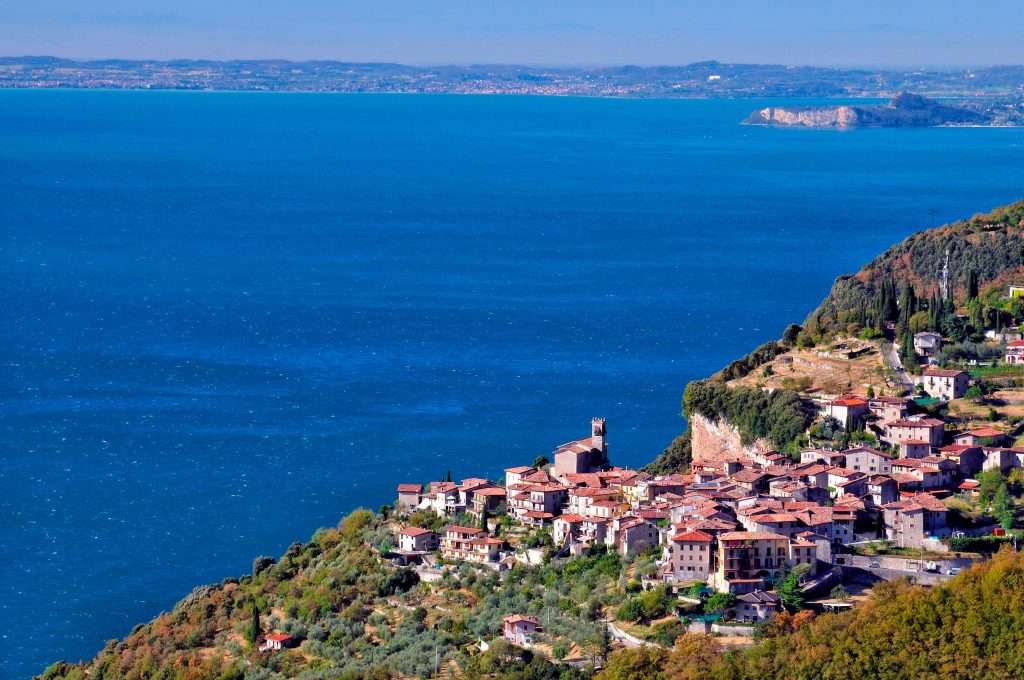 The soothing sound of falling water and the tranquil atmosphere that surrounds it, Aer waterfall is the perfect place to unwind, recharge your batteries and immerse yourself in the wonder of nature.
Have a nice walk dear Outdoors!
Silvia Turazza – Garda Outdoors editorial staff